Companion Kennel - Tennessee French Brittany Spaniel Breeders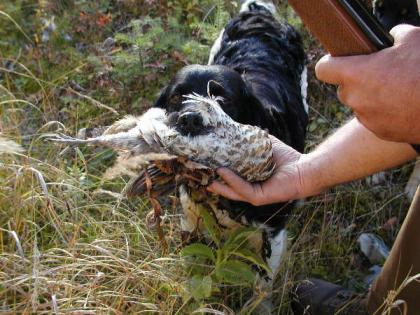 About Companion Kennel
We are a small kennel in eastern Tennessee, only two females of breeding age, dedicated to breeding quality companion/hunting dogs. Our bloodlines have natural pointing, backing, retrieving and close working instincts. We have raised this breed for 15 years and still have our first one along with two more generations; all great natural hunters, wonderful companions with excellent conformation and top bloodlines.
Hunting season isn't all that long so we prefer customers who want a companion family dog that hunts. Our dogs stay in excellent shape with the free run of about 3 fenced acres but when we're home they're usually wherever we are. We handle our pups every day, and when they are old enough to follow we take them for walks in our woods. This makes them easy to work with in their new homes. French Brittanys are highly intelligent and love to work as a team with you as your companion; thus the name Companion Kennel. We are a member of The International French Brittany Club of America breeding to the international standard for the Epagneul Breton. All breeders in our club sign an ethics agreement and are dedicated to honesty and integrity dealing with everyone.
Hunting Dog Breeds Raised
French Brittany Spaniel
Breeder Contact Info
Testimonials (1)
Submitted by: Tabatha Smith on Jan 10, 2010
I purchased a little French Brittany spaniel puppy from this kennel.
I had done a lot of research and found that the French Brittany had the characteristics that I was looking for. I wanted a big dog in a smaller dog package. One that would be smart, easy to train, and have a good temperament.
Ed and Rita Stahlcup were very choosey about where their puppies were ending up.
We had several conversations and correspondences about my home environment, and my intensions/reason for wanting this breed of pup. They sent pictures of the pups and even helped to pick one that would match my families' personality. I got to meet the dog parents, and I was able to see the area where the puppies were kept. They were very helpful and professional. They do love their dogs.
Submit your testimonial