Ray Watkins - Tennessee Labrador Retriever Breeders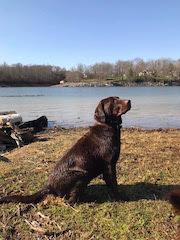 About Ray Watkins
I have been raising Labs for over 20 years with mostly the Kellogg line that I picked up from Mayo myself while in South Dakota pheasant hunting. I presently have a Chocolate female that is the daughter from one of my former chocolate males purchased at Hunters Point Kennel. She also has the Kellogg bloodline from her mother's side. I have a one year old chocolate stud from Hunters Point Kennel. I am an avid hunter and have great success with my dog's hunting skills. Please note my dogs make GREAT FAMILY COMPANIONS. I am located within sight of the Bristol Motor Speedway.
Hunting Dog Breeds Raised
Labrador Retriever
Breeder Contact Info
Ray Watkins
221 Meadow Lark Ln
Bluff City, Tennessee 37618
Breeding quality gun dogs for over 20 years.
Send Email to Ray Watkins
Our Pedigrees
Testimonials (4)
Submitted by: Hugh Dillon on Jun 21, 2011
We bought a wondeful male pup from Ray in April of 2010. Smart, beautiful and big. Highly recommended.
Submitted by: Christine on Jan 08, 2011
We purchased a chocolate female from him back in April 2010. I would refer anyone to him. Our Milie is so smart and loving. She has a wonderful temperment and even puts up w/our 4 yr old pulling & laying all over her. She learned to retrieve birds & buoys at a very young age. You can't go wrong w/buying a lab him. If we decide to add another lab to our family he will be the one I buy from.
Submitted by: brandon on Dec 19, 2010
The dog that we received was excellent. She's the smartest dog I've ever had. I was referred to this breeder through friends and I would not hesitate to refer them to you.
Submitted by: Trey Nelson on Mar 29, 2010
I have a black lab, Maverick, from this kennel, from current Chocolate dame, Hershey, and past Yellow stud, Deuce. Everyone that has ever seen Maverick has complimented him greatly on both his appearance and his behavior. He has a very calm and loving temperament. He was very easy to train from a very young age, very smart. My mother got a sister dog from the same litter, and she is very smart as well. Both would make excellent hunting and retrieving dogs. I have been around most of the dogs this breeder has had and they have always been very beautiful and well-trained dog. This breeder is definitely a dog person, knows a lot about them, and produces beautiful intelligent puppies.
Submit your testimonial