Beech River Kennels - Tennessee American Brittany Breeders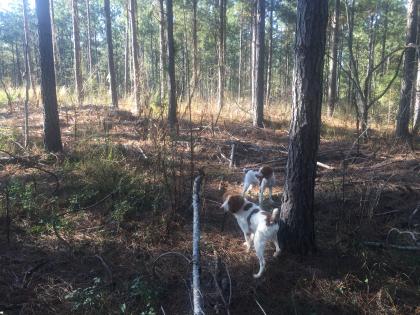 About Beech River Kennels
Beech River Kennels is located in southern middle Tennessee on 100 acres along the banks of the Beech River. We are a two hour drive from Memphis or Nashville. We purchased our first Brittany over 14 years ago while living in Murfreesboro, TN. I trained him myself and he turned out to be an impressive bird dog. I was guiding hunts with him by the time he was 7 months old. At the time I worked on a wing shooting preserve that was 30 minutes from our home. Over 14 years and 4 moves later a lot has changed. Today we compete in AKC horseback field trials, Show competitions, and I train full time. What hasn't changed is we still have dogs out of our first Brittanys, a passion for wing shooting, and a love for the breed. Our kennel is focused on breeding quality Brittany gundogs for field, show, and companionship. We seek out the best champions to sire our litters. Our dogs are from champion sires or champion parents. Our bloodlines are from some of the most famous dogs in history. 32x nstra champion Nolans last Bullet, DC NFC Ban Dee, NFC HOF Beans Blaze, DC Chicks Blazen Sawtooth Sam JH, NFC DC AFC Gamblers Ace in the Hole HOF, NFC 2x NAFC FC AFC Just Call Me Roy HOF, FC AFC Light em Up Luke, DC GFC AFC 2X NGDC Hopes Chief Of Crosscreek, NFC GFC FC Roustabouts Flat Out, FC Nobel Rocket, & NFC Ramblin Rose just to name a few. For questions or more information call or text the number below. Calls Appreciated!
Hunting Dog Breeds Raised
American Brittany
Additional Services
Training, Stud Services, Boarding
Breeder Contact Info
Testimonials (5)
Submitted by: Larry Craig on Feb 23, 2021
Travis I love your website.. if you need any references tell them to call me anytime. For the folks that are in need of he best man for their dog look no farther than Travis! He has trained 3 different Brittany's for me in the last 2 or 3 years . Both of thes dogs had major problems and now are both working here at my preserve and doing great !! I could not be more pleased' I have sent Travis several like 5 or 6 people to him and they are all very pleased with the training their dogs received and I know this because I keep up with the folks I send to Beech River !! Thanks Travis for all you have done for me and my bird hunting friends !!!
Submitted by: Terrell England on May 09, 2017
I have had Brittany's since the 1980's. We lost our last one last year . He was 15 years old. Needless to say it was like losing a member of the family. We got that dog from a man that had been raising Brittany's for over 60 years. We bought a 8 week old Male puppy from Travis in February of this year. This dog is very attached to us already. He has a very good personality and very much wants to please us. We have not worked him on birds yet, but he loves to retrieve balls already. I have put him in the field a couple times he is very athletic and covers a lot of ground fast. I am very pleased with him. Travis is very knowledgeable with the Bloodlines and the pedigree's of his dogs. Travis also takes a lot of pride in what he is doing and wants to Breed and raise High quality dogs.
Submitted by: Susan Olson on May 04, 2017
I contacted Travis Shuler about his female puppies on February 13, 2017. Sent a down payment to secure the puppy. Travis was so good to answere any of my questions before we ever picked up our puppy. Letting me know about dog food, shots & all. We drove to Parsons , TN on February 17,17 to pick up our little female. Travis was so helpful. Aina is 4 1/2 months old now and is so smart. I still keep in touch with Travis and he is always so helpful when I talk with him. I would highly recommend this Kennel.
Submitted by: Brooks Cain on May 03, 2017
Travis was great to work with. I got an 8 week old, female Brittany who has gotten the highest marks from my vet on health. She's got a wonderful temperament, and she is an exceptionally intelligent dog. Travis walked me through her bloodlines and pedigree which were very impressive. As a first-time Brittany owner, Travis has been incredibly helpful to me. From his advice before I even brought Fife home to his willingness to answer my questions day or night, he's been a great resource for me. I highly recommend Travis and Beech River Kennels if you're looking for a high-quality Brittany from a knowledgeable and helpful breeder!
Submitted by: Mary Trevellyan on May 03, 2017
I bought a Brittany Spaniel from Travis Shuler who is the breeder at Beech River Kennels. I called many breeders but no one was as thorough with me as Travis Shuler. I cannot say enough good things about my experience of buying a Brittany Spaniel from Mr. Shuler. He answered all of my many questions and always got back to me asap! Mr. Shuler is a very knowledgeable breeder and he helped every step of the way in getting our puppy shipped out to us and he continues to check in with me to make sure that I am happy with our Brittany Spaniel from his Kennel and to see if I have any additional questions for him! That is incredible customer service that is rare to find today.
If you want to buy a very well breed Brittany Spaniel then give Mr. Shuler a call. You will be glad you did!
Submit your testimonial