Appalachian Gundogs - Tennessee Labrador Retriever Breeders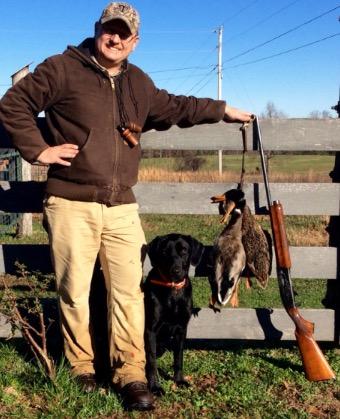 About Appalachian Gundogs
At Morgan's Appalachian Gundog we strive to produce quality Labrador Retrievers that excel as hunters as well as being man's best friend. Whether hunting waterfowl, upland birds or sitting on the porch with the family, versatility is the "norm" with our dogs. We occasionally offer litters from select breedings and from time to time started dogs. Call for availability, will be happy to answer any questions. Thank You Rob Morgan
Hunting Dog Breeds Raised
Labrador Retriever
Additional Services
Stud Services
Breeder Contact Info
Our Pedigrees
Testimonials (2)
Submitted by: Jay Richards on Oct 29, 2018
I purchased Preacher (progeny of Morgan's Rockbatter Woodsman) from the Morgan family in October 2018. It was evident that Rob knows what he is doing and takes exceptional care of his dogs. The entire Morgan family is involved in the operation and that produces well socialized, calm dogs with a deep desire to please and hunt. I highly recommend any of their dogs. Although I have had Preacher only for a few weeks, he is the smartest dog I have ever seen, easily trainable, and a fantastic demeanor. The Morgans are honest and will get you a fine hunting dog and family dog.
Submitted by: Matt and Vicki Conrad on Jun 20, 2016
We purchased Judah Sherman Cole Conrad a black lab in January of 2016. Judah is now seven months old and we have been extremely pleased with our new family dog. The Morgan family takes exceptional care of their puppies. We made four visits from the time the dogs were two weeks old. We had first choice and had a difficult time choosing because all the puppies were loving, obedient and beautiful animals. Judah was already crate trained and was very comfortable around children and adults when we purchased him at eight weeks old. After bonding with Judah, we also had Rob train Judah for several weeks. Were were amazed how quickly Judah was obeying so many commands. Judah swims, retrieves, walks on hikes right beside of us without a leash, sits, stays, and has a wonderful fun personality. I attribute this to the loving environment Judah was raised in. All of Rob's personal dogs are excellent hunting dogs. We witnessed first hand how the dogs responded to Rob's commands. We would never hesitate to recommend the Morgans and their puppies.
Submit your testimonial