1st and 10 Springer Spaniels - Tennessee English Springer Spaniel Breeders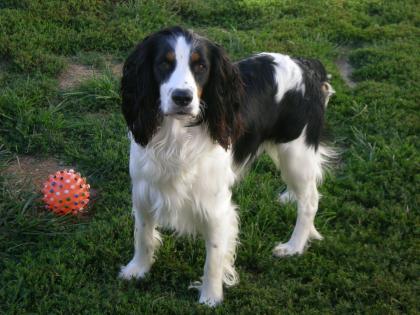 About 1st and 10 Springer Spaniels
We have 2 puppies available. These are the last two puppies we will ever have. They are both male black and white tri color puppies. They have their tails docked, dew claws removed, current on all shots and wormings, and are AKC registerable. They were 9 weeks old on July 8th 2012. They are ready to go to new homes today. Call 615-218-5270.
The 1st and 10 Springer Spaniels are retiring. Deuce and Daisy have raised 34 beautiful puppies in their career and it's time for some rest and relaxation. To all the parents of our puppies, Thank You so much for taking care of our babies. It has been a blessing to meet each of you. It will be a long time before we get back into breeding because we hope Deuce and Daisy receive a long, well deserved retirement. We will keep our web pages up so that everyone can enjoy the pics.
At 1st and 10 English Springer Spaniels our dogs receive the utmost amount of love and care. We are married middle school teachers that treat our dogs like our kids. Our Sire is a Black and White Tri, AKC 1st and 10 Deuce on the Loose, whelped at AVE Springer Gardens in Cookeville, TN. Our Dam is a Liver and White Tri, AKC 1st and 10 Daisy May Lane, whelped at Appalachain Kennels in Hazard, KY. In the females lineage you will find the Championship Bloodlines of CH Salilyn's Condor, the winner of the 1993 Westminster Best in Show Award. Our goal is to raise well rounded, well mannered puppies with excellent temperment. We have a loving family of four dogs, two English Springer Spaniels and two Cocker Spaniels. Our dogs are family pets and are treated as such. We raise our puppies as if they would be our own.
Hunting Dog Breeds Raised
English Springer Spaniel
Breeder Contact Info
Testimonials (5)
Submitted by: Sandra on Jun 19, 2011
We got Archie in August 09 and he's the best dog anyone could ever ask for!!! Not to mention such a handsome pup and EVERYONE stops to say so! The Lane's are a dream to work with and take such good care of their pups. I am seriously considering getting Archie a brother and I wouldn't go to anyone else and I will gladly do the 12+ hour drive again. They are SO thoughtful they even send us a holiday card with the family and all the dogs every year! They truly are the dream breeders with such beautiful healthy and happy puppies!
Submitted by: Barbara Roberson on Apr 06, 2010
We got our puppy, Juno, from Kyle and April in Oct 2009. He is the sweetest puppy and so easy to train. They went out of their way to accomodate us and make his transition from their home to ours easy for him. Our family could never thank them enough for providing us with such a wonderful pet. We recommend them to everyone who asks us where we got Juno!
Submitted by: Steve Davis on Feb 17, 2010
We bought our dog, Miles from Kyle. He was one of the pups from the Lane's first litter. Miles is a great dog and has beautiful coloring. The Lanes were great to work with, and have consistently kept in touch. It is evident that they love their dogs.
Steve
Submitted by: Jeremy Young on Sep 11, 2009
I recently purchased a new pup from Klye. He is a great guy that has great dogs. I have used his dog Duece for a stud in the past with outstanding results. Kyle and his wife are great people and it has been a great experience each time I have done business with them. I would recommend them to anyone interested in a great pup, they love their springer and love to introduce new people to the breed. Jeremy
Submitted by: Holly Schuler on May 15, 2009
I drove to Tennessee to get a male from this breeder and they were friendly and were able to answer all the questions I had. They had our puppy well groomed, he was up to date on the shots and appreciated the dew claws being taken off. I picked up a female in Georgia and that was never done. You could tell they love their dogs. I want to thank them a bunch for our Rocky! His coloring is beautiful and he is a sweet lovable dog. I highly recommend this breeder.
Holly Schuler
Submit your testimonial