Ken Kuivenhoven - South Dakota Vizsla Breeders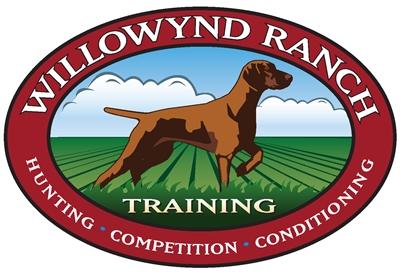 About Ken Kuivenhoven
2013 National Gundog Champion
Vetelytar's Tuff as Leather
Handler/Trainer - Ken Kuivenhoven
Not only are we Pointing dog trainers, competitors and AKC Field judges, we also are dedicated Vizsla Breeders.  We typically produce one to two litters per year.  We strive to produce dogs sound in health and temperment, exceptional field ability and Vizslas that look like a Vizsla.  Each of our last litters have produced Pups that ranked in the top 15 Nationally, with one taking the #1 position as a Derby dog - it's littermate in the top 5.  
Our dogs and those produced here successfully hunt wild Pheasant, Sharptail Grouse, Quail and Hungarian Partridge.  If you are in search of a well bred Vizsla with a strong hunting and trial background, you've found it. 
We offer full service training for the Pointing dog, Consultation and Training development programs for the Do it Yourselfer, Puppy Introduction, Vacation program, Conditioning and a special program - a wild bird Summer Camp in North Central South Dakota where the dogs will work native sharptail grouse, pheasant and Hungarian Partridge.  www.willowyndranchcamp.blogspot.com
Standing at Stud, Frozen or Fresh Chilled is NGDC Vetelytar's Tuff as Leather, shown at the top of this page.  OFA Good, out of NFC Onpoint's Sly Coyote. 
Also available at Stud to approved bitches is a direct son of DC Rebel Rouser ET, HOF - Willowynd's Arctic ET Express.  He is OFA Good, Thyroid Normal, CERF checked.  His Father is still the #1 producer of Field Champions and Dual Champions in breed history.
We are Members of the National Vizsla Association, Vizsla Club of America, Vizsla Club of Northern California and South Coast Vizsla Club.    Please visit our website and also check out our blog at
Hunting Dog Breeds Raised
Vizsla
Additional Services
Hunting, Training, Stud Services
Breeder Contact Info
Our Pedigrees
Testimonials (4)
Submitted by: Jodi on Nov 23, 2012
We were extremely fortunate to be selected (from a long list of potential owners) for a vizsla puppy from Willowynd Ranch in 2010. Our Kyburz (Ky) is from the 2010 breeding of Willowynd's Tessa and Onpoint's Spinning Axel "Jack". Ky is our first vizsla and we could not be happier with him as the puppy selected for us by Ken and Janet.
About Ken and Janet: Anyone would be lucky to be selected for a puppy from Willowynd. They are responsible breeders who breed on a limited basis and provide exceptional handling and socialization for their puppies. They make themselves readily available for any questions from new owners. We live nearby, so worked with Ken in training Ky to hunt and also board our dogs with them when traveling. We also have a rescue vizsla with some behavioral issues, and they have been very patient and kind in working with Rudi when boarding him. We feel so very lucky to have met Ken and Janet and consider them close friends.
About Kyburz: Ky is both a hunter and family dog and shows all the best characteristics of the vizsla breed in both aspects. Ky is an absolutely stellar hunter who thoroughly enjoys and craves the hunt, yet at home he is calm and shows all the affection and happy desire to cuddle that are compelling aspects of this wonderful breed. Aside from hunting, we are mainly an outdoors family and hike, mountain bike, and run with our dogs. Ky loves to run, but everyone is amazed by his recall. People frequently stop us to admire his looks and question us about the breed. He easily passed two Junior hunt tests that we attended, and likely would have done exceptionally well in competition had we been interested in pursuing trials. He is simply an incredible and beautiful dog that we cherish greatly. I (obviously) cannot say enough good things about Kyburz and Willowynd Ranch – you would be very lucky to be selected for one of their puppies.
Submitted by: Ed O'Neil on Nov 21, 2012
Our dog Ky definitely is an angel. On a recent hunt went through three fields that already had 50 people and 30 dogs through them and he still found and pointed three pheasant resulting in three bagged birds. His new nickname is "the sweeper" 'cuz he finds what the other dogs can't...but I'm not gloating : )
If anyone is looking for a wonderful Vizsla that is a great family dog and hunter...Ky is from one of Willowynd Ranch Vizslas litters. They don't breed often but will have two litters (keep our fingers crossed) this winter I believe.
Ken's been great in getting Ky and I trained too ; ) (I needed more training that Ky). I don't typically do testimonials, but I do feel strongly about our wonderful pooch, hence the recommendation.
Submitted by: Jodi Cassell on Nov 14, 2012
I can't say enough good things about Ken and Janet of Willowynd Ranch. First, they are highly responsible breeders who limit their breeding, so you would be extremely lucky to get one of their vizslas. Our dog Willowynd's Rockin Kyburz is now 2 years old and from Willowynd's Tessa's first litter. Ken and Janet spent a lot of time getting to know us and our suitablity for the vizsla breed, and they also spend a great deal of time with the puppies socializing them, working to ensure their health, and doing personality tests. Kyburz is our first vizsla and we could not have asked for more from a dog. He is an incredible hunter in the field, but also very sweet and quite cuddly in the house. Very smart and easy to train. Given that we are closeby Davis, Ken encouraged us to bring him out for training the weekend after we brought him home. I'm forever grateful to Ken and Janet and they have also become close friends. They are great people and responsible and caring dog breeders. The best that you could ask for!
Submitted by: Karen & Tim Heydorff on Aug 30, 2010
When my husband and I went looking for another competition Vizsla, we talked with some very respected pros and breeders and we were eventually referred to the Kuivenhovens. Ken and Janet were very attentive and careful in their selection with the prospective new owners making sure it was a good fit with the pup. We were lucky to get one of the pups from the Nellie/ET breeding and our "Pearl" has just been constantly amazing us – excelling in the field and in the show ring. She is very smart, with tons of drive and plenty of personality. We consider ourselves lucky to have a continuing and very supportive relationship with Kuivenhovens and we would enthusiastically recommend a Vizsla from Willowynd Ranch.
Submit your testimonial