SavageHunter Labs - South Dakota Labrador Retriever Breeders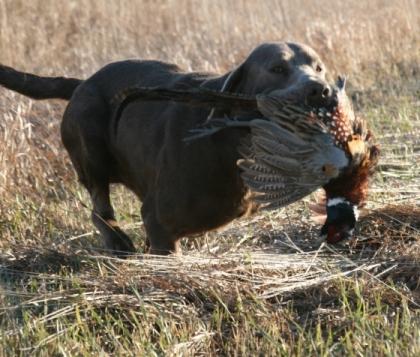 About SavageHunter Labs
We are a small kennel located in southeastern South Dakota.  Our goal is to raise quality family labs that have just as much fun in the field as they do with you and your kids.   We currently have black, silver, chocolate, charcoal, and yellow labs.   See website for current litter information.
Hunting Dog Breeds Raised
Labrador Retriever
Additional Services
Stud Services
Breeder Contact Info
Testimonials (5)
Submitted by: Paula Jager on Feb 25, 2012
We were given a Chocolate Male Lab in 2008 as someone tried to poison all 3 of our dogs, I saved our corgi and dachshund but our 9 year old lab passed away. We named our new lab Snickers, he is our best friend. He weighs 140 lbs and is a beautiful lab. Many thanks to Terry...
Submitted by: BLAINE BOLANDER on Sep 14, 2011
I bought a dog from terry last christmas. A chocolate female she was very tiny. she has growin to a very well biuld dog very good with kids and listens very well also very strong dog. glade that we found this place.
we named her java jo
Thanks Blaine Bolander
Gregory SD
Submitted by: Chris on Oct 17, 2010
I bought Stella Blue from Terry in June of 2010. At six months old, she has proved to be everything and more that I wanted from a dog. When I got her she was a gorgeous Charcoal color that really shined in the sunlight. She had baby blue eyes and it was love at first site. As she has grown a little older, her eyes have changed to a very pretty grey/silver and her coat is developing some blonde tipped hairs like her father Guage in the sun.
Terry was great through the entire process of acquiring Stella. He supplied me with the amazing blood lines of both parents, continued to update me on benchmarks of her before I was able to pick her up and did anything else I asked or he deemed necessary.
The setting that Stella was kept in at Terry's provided her with a lot of socialization opportunities at a very young age. Those skills have only carried over and been enhanced as she has matured into a wonderful young pup!
Submitted by: scott metter on May 06, 2009
We purchased a chocolate male from Terry last August and proceeded to name him Drake. Drake has grown to be blocky like his Daddy and has a very pleasing personality. He is also very loyal and talented. He catches his treats in mid-air every time!! We wouldn't trade him for anything. Drake is the comedian in our family and thinks he has to be inside with the family. He is showing some very outstanding hunting talent. I would recommend Terry's pups to anyone and would like to thank them for making us happy parents.
Submitted by: Nancy Johnson on Mar 18, 2009
We bought a puppy from Terry last August. He had named her Sweetie. We renamed her Cocoa but sweetie definately describes her. She has the sweetest dispostion I have ever seen. She is an absolutely beautiful dog and we are so happy with her. Although we don't use her for hunting my husband says all the instincts are there. She will often be in the backyard with her tail straight out and her head flat. She loves to fetch and if we hide her toy she will sniff it out. She loves to have her tummy scratched and will practically turn a summersault if we scratch her ears so she can lay on her back and have her tummy scratched. Whether you are looking for a hunting dog or a loyal companion I would definately recommend Savage Hunter Labs.
Nancy Johnson
Rapid City, SD
Submit your testimonial