Czechmate - South Dakota Pudelpointer Breeders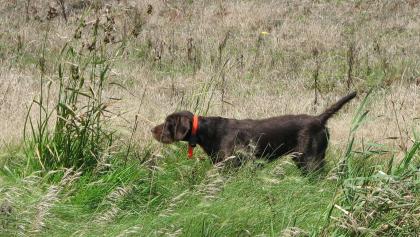 About Czechmate
All pups have been placed. Doubtful I will breed again. Thank you all.
Hunting Dog Breeds Raised
Pudelpointer
Breeder Contact Info
Buck Blackman South Dakota
46787 253rd ST.
Lyons, South Dakota 57041
Breeding quality gun dogs for over 31 years.
Send Email to Czechmate
Testimonials (3)
Submitted by: Brandon Stone on Oct 07, 2011
We received PT Kodiak Girl "Palin" from Chris and Buck this past January. We could not be more pleased. Parker our 9 year old son ran Palin in NA at 6 months. Parker and Palin scored a 108/112 Prize I. Palin had been on live brids only twice before the test and we looked at it more as practice....neeedless to say it went very well. You cannot train this kind of desire and bird drive, it must be inherited. Palin has already been fetching downed ducks this season and she will hunt pheasants all season long, well before her first birthday. She is in the house all the time and sleeps with Parker every night. Great dog, great drive and fun to be around. Thank you Brandon and Parker Stone
Submitted by: Jon Sutherlin on Oct 27, 2010
I lucked out, a family in Washington had spoke for Bo, but had to back out. Buck brought Bo to Kansas to hunt with me and I got a well socialized dog at 6 months, potty trained and started behind the big dogs.
Bo is 17 months now, AWESOME dog. I live in Alaska, on his first Ptarmigan hunt, the first 2 birds came up to my left, and I picked up a nice double. The rest of the covey went to my right, so I watched them down. When I looked back, Bo was coming back from the far bird. That was OK, I figured I would send him back for the other downed bird. He trots up, and has BOTH birds in his mouth. Thanks Buck for an great dog, and we can't wait to get down south for some Pheasant and Quail.
Submitted by: Mike and Genelle Petsch on Sep 11, 2009
We acquired a pup (Stub) from the 6/27/09 litter on 8/15. He is showing great potential! The first time we took him to the lake he jumped right in and paddled around! At 10 weeks he was able to sniff out a pheasant wing we planted. He appears to be completly house broken already.
A big plus for us is he gets along great with our other dog.
We attribute his great progress to the socialization that Buck does with all his pups. Buck checks on him often and is always willing to offer suggestions and help. These are great pups we would have taken another if we could have.
Submit your testimonial