Little River Pheasant Hunts and German Shorthairs - South Dakota German Shorthaired Pointer Breeders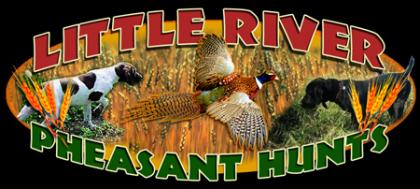 About Little River Pheasant Hunts and German Shorthairs
Here at Little River we take great care to make sure our breedings are the best we can possibly produce. We take great pride in the quality of our puppies and make sure our customers are 100% satisfied with their new addition. If for any reason you should be unhappy with your pup, started or finished dog we will replace it with one of equal or greater value with no questions asked. The dog needs to be in the same mental and physical condition as when it left Little River.

We guarantee our dogs, PERIOD!!! We don't just guarantee genetic defects for 26 months. We guarantee genetic defects for the life of your dog. If for any reason you do not like your dog we will do whatever necessary to make sure you have a dog you are totally happy with. "

We do our best to make sure we match the right type of dog with the right person. We do ask our customers several questions before we suggest a particular litter or puppy. When purchasing our started or finished dogs we make sure you get a dog that is going to be your partner in the field. You deserve a dog that is going to assist you in your hunt, not hinder it.

We do not and will not let a unhappy customer go without being satisfied. We are in the business to make our customers find out what it is like to be able to enjoy a quality hunting buddy that most people only hear about.

Our breedings sometimes take months to properly research. We make sure our inbreeding coefficients are always between 17 and 18 if we are doing a line breeding. We research the pedigrees of the dogs we are considering breeding back ten (10) generations. This may sound like a lot but it is absolutely necessary to make sure we consistantly produce uniform litters of superior quality puppies.

If you have anymore questions about our breeding program, training program, our puppies, started or finished dogs please don't hesitate to contact us. We are more then happy to answer any questions we possibly can whether it has to do with our dogs or with just training or breeding in general.

It is our phylosophy to assist any new breeders to the best of our ability. We do not feel keeping secrets as a breeder is the best course of action when trying to increase the quality of our hunting breeds. We don't understand breeders that want to keep all of their knowledge a secret. We will be more then happy to help you with any breeding issues you have questions on.

For more information you can contact us at

Little River Pheasant Hunts and German Shorthair Pointers
www.littleriverpheasanthunts.com
www.sdgundog.com
605-395-7799
605-395-6927

Hunting Dog Breeds Raised
German Shorthaired Pointer
Additional Services
Hunting, Lodging, Meals, Training, Stud Services, Boarding, Birds for sale
Breeder Contact Info
Testimonials (2)
Submitted by: Dan Noonan on Oct 16, 2012
I bought my pup 4 years ago after doing my homework deciding Little River was my breeder of choice. I drove from Arizona in the dead of a South Dakota winter and was welcomed like family once I arrived. My dog was introduced to me in the comfort of their lodge and we spent a couple days hunting with her older aunts and uncles. The dog was named Gretchen Dakota of Little River on her papers and she has been a joy ever since. She is smart easy to train, even tempered all a result of Dayles breeding program. Do yourself a favor, buy your shorthairs from a true professional. Enjoy hunting and hospitality from the gents at Little River, in Stratford South Dakota.
Sincerely,
Dan Noonan
North Rim Arizona
Submitted by: Pat Johnson on Oct 13, 2006
I have purchased two dogs from these guys and hunted their lodge. The numbers of birds is incredible. I have never seen anything like it. The dogs are both fantastic. I bought started dogs and not puppies. I am no trainer so I had to buy a dog that was already well on his way. Both of my dogs are fantastic. I have a shorthair and a lab from them. The dogs came to me doing exactly what they said. I felt comfortable buying from them with their guarantee they have. I hope I never have to use it. So far I couldn't ask for a better dog.
Submit your testimonial