High Caliber Labradors - South Dakota Labrador Retriever Breeders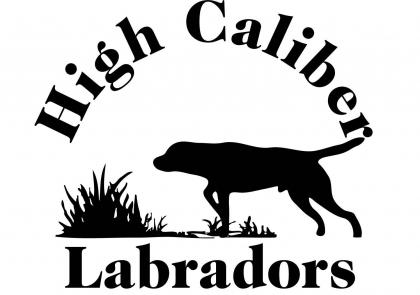 About High Caliber Labradors
Welcome to High Caliber Labradors website, a small kennel located in the  southeastern part of South Dakota. "Pheasant Country"  High Caliber Labradors is constantly striving to produce successful hunting dogs and test dogs along with great family pets. Understanding that your dog is a large investment for your hunting adventures. Please feel free to contact us and we will answer any questions that you may have.
High Caliber Labradors is now taking client dogs for gundog and retriever training. Please feel free browse out website or contact us.
Hunting Dog Breeds Raised
Labrador Retriever
Additional Services
Training, Stud Services, Birds for sale
Breeder Contact Info
Testimonials (3)
Submitted by: jeff capistrant on Jul 09, 2012
I picked up my new hunting partner from Andy on July 1st, he is a black male out of Lotto and Twist and I couldn't be happier. we had him home for a couple of days to get used to his new home and then it was off to work with the fishing rod and wing. after around an hr of 10-15 min sessions the dog started to "creep" and after a few more throws he LOCKED on point, not just an i'm confused point it was solid and he is doing it consistantly no including alot of tripod points. this is way more than I could have ever expected this soon and keep in mind my pup is 8 weeks. thanks again Andy and we will send video soon.
Jeff Capistrant
Submitted by: ryan schoenhard on Sep 07, 2011
Andy is the trainer and owner and is a great guy and down to earth. He knows what he,s doing and does it well he care and loves the dogs around him. and he would always help u if u need to know anything or any tips.
Submitted by: Dave Miller on Sep 21, 2008
Andy is the most professional breeder that I have ever worked with. He has great blood lines in his dogs and he is very passionate about breeding quality dogs. I have had 3 good hunting dogs but the pointing lab that I got from Andy is by far the best I have ever worked with. Unbelievable drive and natural ability...and great with my children. Andy is always willing to help you with training issues. My family and I are very happy with our purchase from Andy.
Submit your testimonial