Chenil de Grand Ciel - South Dakota Braque Francais Breeders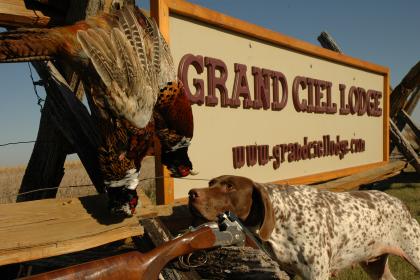 About Chenil de Grand Ciel
We have brad and handled Braque Francais for over 15 years. We regularly travel to France and mport new lines into North America. Our dogs and puppies are top quality.
We currently have puppies available.
Hunting Dog Breeds Raised
Braque Francais
Additional Services
Hunting, Lodging, Meals, Training
Breeder Contact Info
Testimonials (2)
Submitted by: tom on Mar 31, 2014
Wonderful Dogs! We got Belle in 2009. she has been our best French Braque so we decided to breed her. Puppies due April 2014 at Lost Creek Farms in Mo.
Submitted by: Eric Mueller on Nov 12, 2012
I was fortunate enough to connect with Brad 2 years ago when I first became interested in the breed. After getting to speak to him multiple times and went out to his house to see the pups, I purchased my first braque. After hunting Blaise my father will be picking up a female braque from Brad as a replacement for his now aging Lab.
Submit your testimonial