Chateau Kennels - South Dakota Braque Du Bourbonnais Breeders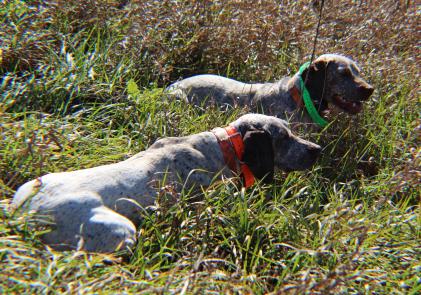 About Chateau Kennels
Chateau Kennels is located in Sioux Falls, SD, in the heart of bird country. We have been involved with the Braque du Bourbonnais breed since 1994 when we purchased our first Bourbonnais, "Masque". For us, buying our first Bourbonnais was a big risk with a breed we really knew nothing about. We have been hunting over them for over 22 years and have never regretted our decision. They have given us a lifetime of memorable moments. From our Nebraska pheasant, quail & grouse hunts to this springs South Dakota snow goose season, they have excelled with every type of game. The challenge of training these dogs for the 3 levels of American Kennel Club Hunt Tests that are offered has been a very enjoyable experience. AKC Hunt Tests offer a progressively more challenging level of training which is geared around the type of hunting we enjoy. The end result is a more rounded, self-confident hunting partner as well an outstanding home companion. It allows us to evaluate from a judges perspective, the hunting strengths and weaknesses of each of our dogs.
Hunting Dog Breeds Raised
Braque Du Bourbonnais
Additional Services
Stud Services
Breeder Contact Info
Testimonials (1)
Submitted by: Mary Friedrichs on Aug 21, 2016
We have two females from the first litter. Both girls are still only 6 months old but love to retrieve and are ferocious water dogs. We couldn't be happier. They are sweet and loving and perfect additions to our family.
Submit your testimonial