JOYKEN KENNELS - South Carolina German Shorthaired Pointer Breeders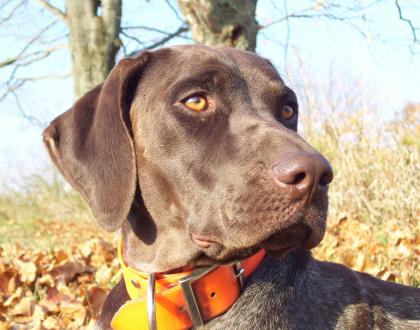 About JOYKEN KENNELS
We are a small family run kennel. We train and hunt our dogs with Stacie Smith who owns Windchime Kennel. Our dogs  are also family companions. We own and hunt different breeds of hunting dogs.
Our dogs participate in AKC, UBHA, NBHA, UFTA, NAVHDA, NSTRA and NADD. "Speck Patrick Boy" is a JH and "Windchime's Joyken Baylee" has her MH title,her NAVHDA's NA 112 PZ1, her North American Diving Dog Dock Junior Title, and has placements NSTRA.  Our dogs have been hunted in SC. NC, GA, KY, OH, and ND.
We breed only quality dogs as Hunters and Family Companions.  Our goal is to provide you with a healthy pup that will give you joy at home or in the field for years to come.
Our dogs are naturals in the field and exhibit sweet temperaments. We expect great hunting dogs from all our litters. In fact, some of our offspring "Windchime's Rock Solid" (Stone), owned by Stacie Smith has earned his MH title and also won in the show ring, John Roland's "Field Of Dreams" (Dylan) just completed his MH title, North American Diving Dog Novice Title, and Baylee's Shooting Starr" owned by Donnie Potter has several placements in NSTRA, and our own "Joyken's Follow That Dream" (Daisy) finished her JH title and has a placement in NSTRA, and "Joyken's Command Performance" (Bug)completed her JH title at 7 months old and has several legs of her North American Diving Dog Senior Title. You can also follow us on our facebook page: Joyken Kennels. We have 3 puppies available from our February, 2018 litter still available. We could not get female pictures to load on classified page here.
Hunting Dog Breeds Raised
German Shorthaired Pointer
Breeder Contact Info
Testimonials (4)
Submitted by: Gina Siska on Jun 05, 2015
JoyKen Kennels is owned by the two nicest couple ever, they went above and beyond to accommodate our needs.We purchased a female gsp a couple of weeks ago and she is the sweetest pup ever, very smart and pointing already! Thanks so much Joy and Ken!
Submitted by: Alex Leopard on Sep 29, 2014
I can honestly say I have never owned a better dog. I purchased Ruger in early 2012, and have been nothing but pleased since then. He was instantly a natural in the field with a passion for pleasing me. He is great in the home and has the best temperament. Joy and ken made the process so easy and I would recommend Joyken to anyone looking for a versatile hunter who loves the water, or someone just looking for a companion. They are definitely all-around great people and dog breeders!
Submitted by: Chris Mason on Jul 31, 2012
JoyKen's GSPs are outstanding dogs that would be perfect for hunting or a as the family pet. I purchased a GSP from JOYKEN early 2012 and have been VERY pleased. The intelligence of my GSP has exceeded all expectations, he has amazing hunting instinct and learned to sit, shake, stay, lay-down and fetch by the time he was only 13 weeks. In addition to his exceptional intelligence, he is a perfect reflection of the GSP breed. Everywhere we go, he gets attention. Don't miss an opportunity to get a JOYKEN GSP.
Submitted by: Stacie on Feb 02, 2012
I am very impressed with this 2012 litter. I will be training and hunting a male pup I am going to call Stone. Look for Stone next fall in NAVHDA and AKC hunt tests!
Stacie Morrow/Windchime Kennels 803-385-2446.
Submit your testimonial