Hollow Creek Kennels/ Boykins Forever - South Carolina Boykin Spaniel Breeders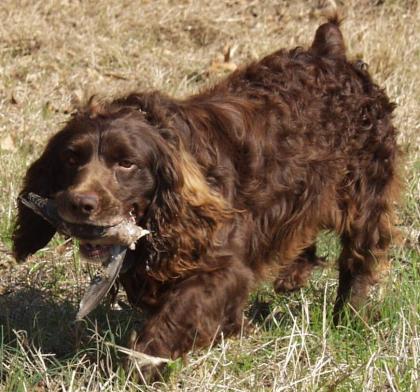 About Hollow Creek Kennels/ Boykins Forever
Hollow Creek Kennel is the breeder of the first two AKC hunting champions & the breeder/owner of Gus, who won Best In Show in the UKC... (none has won a BIS in the AKC to date) and the most, versatile Boykin Spaniel champions to date. Our bloodline has proven excellence in the field, Agility and Conformation.
Established in 1987, Hollow Creek has bragging rights of having bred the most Champions overall. Not just talking the walk...but actually walking it. To date, I am the only Breeder of Merit in the AKC for the Boykin Spaniel Breed, which is testimony to the accomplishments of the bloodline.
My goal is to breed for excellence and soundness both in the field and in conformation. As a hunting breed, you must be sure ask a breeder for proof of hunting accomplishments and verify/research it yourself....before getting lost in the sales pitch. You do WANT a Boykin from proven/documented hunting stock regardless of whether you intend to actually hunt. "Just a pet" should have a great health & bloodline pedigree! I note that many advertisers here say it, but that does not make it true...so do your own research!
Prior to breeding all of my dogs are tested for health clearances, including OFA (hips), CERF (eyes) , Hearts, Patella's and EIC.... to assure soundness. Do not hesitate to ASK the breeder for documentation. There are more CHIC certified dogs from Hollow Creek than any other kennel/ breeders of Boykin Spaniels. Some documentations can be found on the website of OFFA.org. It takes more than certifications to engineer a great dog...it takes the eye & knowledge of experience in THIS breed.
As the Founder of the breed's AKC Parent Club, I have been an advocate, breeder and mentor of Boykin Spaniels for over 25 years. I remain dedicated to truth in breeding practices and boasting rights. As an actual hunter, I continue to promote the Boykin's versatility in every venue ... including family member and couch potato.
Hunting Dog Breeds Raised
Boykin Spaniel
Breeder Contact Info
Testimonials (0)