Gold Rock Kennels - South Carolina Labrador Retriever Breeders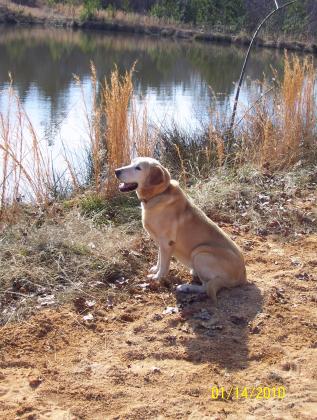 About Gold Rock Kennels
AKC & UKC Registered Lab pups for sale. Pedigrees have master hunters top and bottom. Will be offering stud service and obedience training. See web site
http://www.goldrockkennel.com
Hunting Dog Breeds Raised
Labrador Retriever
Additional Services
Training, Stud Services
Breeder Contact Info
Testimonials (5)
Submitted by: Bo on Aug 23, 2010
I bought a female yellow lab from Gold Rock Kennels. She is now 8 years old and has been nothing but a joy to me as a companion and hunting buddy. I plan to use her again this year on my dove field. She is well behaved and everytime I had a question about labs, Mike was always ready to help me out. If he didn't know what I needed he found out for me. I can't say enough about GRK and would advise anyone to purchase one of his pups or dogs. He has the best!!
Submitted by: Joy on Aug 17, 2010
I own a dog from Gold Rock Kennels. She is a beautiful loving companion. She loves the water and all the attention she can get. Gold Rock Kennels is one of the cleanest, best kept kennels I've ever seen. Mike takes every precaution he can to produce high quality, healthy pups. Can't wait till he has another litter. I'm interested in another one since mine is 8 years old.
Submitted by: Robert on Aug 17, 2010
Gold Rock Kennels produces the best labs around. My female lab has been a faithful companion and hunting dog for 7 years. Mr. Tinker keeps his kennels superbly clean and my puppy was in the best of health when I picked it up at 10 weeks old. She loves to dive into the water and retrieve anything you ask her to. (whether it floats or sinks) You can tell I'm prejudiced but I would recommend Gold Rock Kennels to anyone searching for a "GREAT" lab.
Submitted by: Jo Thompson on Aug 17, 2010
I have Candy from Gold Rock Kennels and she is everything I could as for in a Lab. Her love for the water is endless. Her Obedience is top notch. I would refer anyone looking for a great Lab to talk with Mike at Gold Rock Kennels.
Submitted by: Stacie on Dec 12, 2009
Gold Rock Kennels raise the best Labs with style and desire. The kennels are well kept and Mike can answer any questions you have about this breed.
Submit your testimonial