Welsh Run Kennels French Brittany - South Carolina French Brittany Spaniel Breeders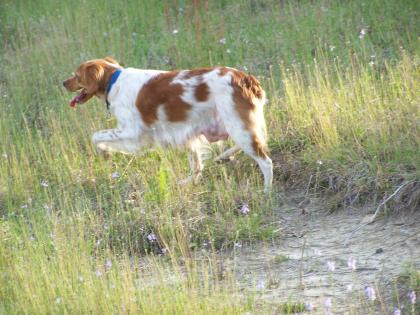 About Welsh Run Kennels French Brittany
French Brittany Gun Dogs for the home and field. Your new dog will have the superb natural hunting instinct and outstanding temperament that marks every Welsh Run pup: friendly, eager, and great with kids and other pets. Our dogs are bold hunters with a lot of natural drive and ability--bold on brambles, great in wet country, too. Most are pointing by 6 weeks.

Every hunting dog is first and foremost, a family pet. For that reason, temperament is a priority at Welsh Run: our pups are gentle with kids, biddable and easily trained. Our puppies are raised in a loving home environment (no cages) and leave us only to go to the same. They have been socialized from birth with children, cats and other dogs.

All our dogs are registered AKC/UKC. We hip check our dogs and post their pedigrees on our website. We have a lot of fun, but our breeding goal is serious: to produce a select number of dogs with strong hunting instinct, proper conformation, and excellent temperament. 95% of our pups are field hunters. Find out why Epagneul Bretons are the best hunting dogs in the world! We prefer pick-up but can ship anywhere in U.S. as needed. Must see photos!
Hunting Dog Breeds Raised
French Brittany Spaniel
Breeder Contact Info
Our Pedigrees
Testimonials (5)
Submitted by: Tim Fahrer on Feb 13, 2007
First let me just say that we totally love our dog, Bucky. He is such a loving and intelligent puppy! It amazes me how sweet and friendly this dog is! We just love him so much. We are feeling like this is a great match of a dog for us.
He is the best dog ever. He is friendly, loving, and great with children and other dogs. He knows how to sit, stay, heel, roll-over, shake, and he also rings a bell at the door when he wants to go out to do his business! He is very quick to learn things. He is in great health. Thanks so much for hooking us up with a companion as great as Bucky. I know that finding the right breeder was the place to start! Anytime you ever need a reference for a potential client, you can count on me. I would without hesitation refer your service. Thanks to you and your family for doing such a fine job.
Submitted by: Rick Carbaugh on Feb 13, 2007
Our dog Blue is now the head of the house and office! He pretty much does everything we do. He took to water like a fish and swims very well. He has grown quite a bit. He is over 18 lbs. now and has a great temperament. On walks through the fields, he has actually honed in on a bird or two. We had Blue along to Alpine Lake in West Virginia last weekend with another couple. They were impressed at how relaxed and calm he was. He was no trouble at all, even on the 3 hour ride there and 3 hour ride home! He sleeps very well, no matter where we are. Rick is anxious to get hunting pictures with him and all the birds!!!!
Thanks for getting us with such a great dog,
Rick & Patti
Submitted by: Bree and Scott Walter on Feb 13, 2007
We've named the puppy Camp. His natural hunting ability is wonderful; we have noticed trainability, pointing, and stalking wildlife. Camp will be hunting wild grouse and woodcock in wooded areas. His temperament is very calm and good. He has bonded wonderfully with our family. He loves the children and they love him. I would recommend Welsh Run Kennels--it was a good experience, you are very personable and helpful. The web site is great, the best we found. It showed your philosophy and the living arrangement of the dogs.
Submitted by: Tommy and Laura Binder on Feb 13, 2007
We have seen quite a bit of hunting ability in Missy. She is constantly stalking and chasing birds and squirrels. Very sweet and loving. Our experience with Welsh Run Kennels was very enjoyable. Lindsay loves checking your website for updated pictures of Missy.
Submitted by: Tom Williams on Feb 13, 2007
Laurie is great to talk with. I really appreciate the time she took to share her knowledge, it makes everyone feel more comfortable with their decisions about our new pup.
Submit your testimonial