Dark Corner Farms and Kennel - South Carolina Chesapeake Bay Retriever Breeders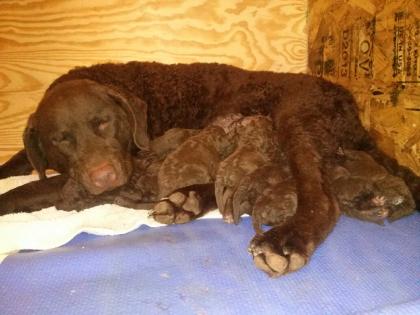 About Dark Corner Farms and Kennel
We are a family farm in South Carolina. Situated on 40 acres, one of the main reasons for the location of our farm is the ponds! Our chessies are working dogs and companions. Our female, Tibby, is a fabulous Chessie. She is dark brown and curly. She LOVES attention and lives to retrieve. She is a working duck and goose dog.
Our male, Trebby, is a natural born retriever. He is intelligent and energetic, who also loves attention, but prefers to work! He's a medium brown color with good curl. He has a large Chessie head and has a great smile!

Check back with us at: https://www.facebook.com/darkcornerfarms
for updated pictures as the puppies grow!

Contact Jacqueline at 864-347-4543 for more information or to reserve a pup.

We have 10 puppies whelped on March 3rd, 2014. There are 5 beautiful girls and 5 handsome boys. They will be ready for their forever homes on April 21st. Pups are $1000 each and a $200 deposit is required to hold.

Hunting Dog Breeds Raised
Chesapeake Bay Retriever
Breeder Contact Info
Testimonials (0)