Brimstone Chesapeake Bay Retrievers - South Carolina Chesapeake Bay Retriever Breeders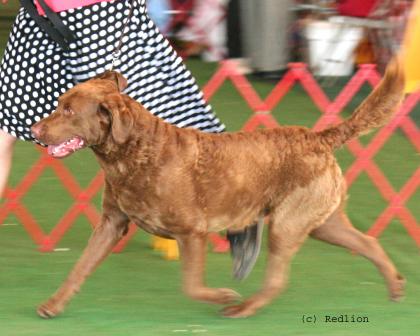 About Brimstone Chesapeake Bay Retrievers
                            BRIMSTONE CHESAPEAKE BAY RETRIEVERS
                                 Bred to Show--Born to Hunt--Bound to Win
 Brimstone is the home of Multiple Best In Show GrCH Chesabars Brimstone Kodiak, CGC  Our Policy at Brimstone is to produce the all around dog. We breed for sound temperament and healthy body. I am a Veterinary Technician and my husband is a Vet.  Our puppies are home raised and come with health guarantees.  Our pups are very socialized and adaptive to any situation. In the past I have raised Labradors, English Bulldogs, and Cane Corsos, but my true love is the Chesapeake.  Their attitude and companionship speaks volumes. You will not find a better family companion, hunting companion or guardian all rolled up into one.  All pups are AKC Registered. We have a litter due on September 22, 2017. The Sire is a Master Hunter and is Major pointed in the Show ring, the Dam is a Grand Champion in the Show ring. This litter is going to be phenomenal. These puppies come with a Complete Health Guarantee.  They will not be affected by PRA, EIC, or DM.  This litter is very nice.  They are all Brown pups !!!!!!!

Hunting Dog Breeds Raised
Chesapeake Bay Retriever
Additional Services
Stud Services, Vet
Breeder Contact Info
Testimonials (4)
Submitted by: Shanell DeLuca on Jul 08, 2021
I got a puppy from Brimstone in 2018. She is now 2 years old. She has such a beautiful temperament and is the perfect dog.
Submitted by: Heather Minsker on Jun 05, 2020
We were fortunate enough to stumble across Brimstone Chesapeake in 2017. This pup is our third Chesapeake and she is perfect in every way. She has the sweetest disposition and an incredible working drive; we couldn't be more grateful she is part of our family. Elizabeth was super helpful with reminding us of what to expect in the puppy months- and had the best advise in general to help us make our new pup feel at home.
Submitted by: Justin Steigerwalt on Sep 24, 2013
We could not be happier with the puppies that we got from Brimstone Chesapeake Bay Retrievers (3/30/13). Both look to grow up to be just as stunning as their parents Kermit and Happy.
Submitted by: Elizabeth Baker on Aug 09, 2013
Our three-year-old Whaley (Brimstone St. Patrick's Whaley) is a handsome, perfect example of the breed. My husband and I met the breeder at a dog show in Greenville, S.C., and we returned the following year to the dog show simply because we knew we wanted our next dog to be a Brimstone Chessie. Aside from being a very beautiful dog, Whaley has the ideal temperament - a perfect mix of classic Chessie willfulness paired with a sweet disposition toward our family and our other Chessie, a female who is six years his senior. While my husband and I now live in Alaska, where Whaley continues to thrive as our spoiled house pet as well as a fantastic duck retriever, we wouldn't hesitate to return to South Carolina to meet up with Brimstone again when the time comes to add another Chessie to our family.
Submit your testimonial