Braque Francais of Foxgrove - South Carolina Braque Francais Breeders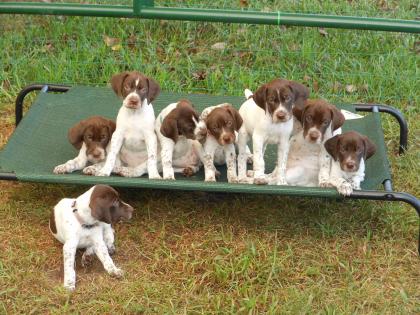 About Braque Francais of Foxgrove
We are devoted Braque lovers.Our dogs live in the house with us, and are treasured family members.The elegant "French Pointer" is an avid Bird Dog and a loyal companion.We offer training packages for puppies, as well as stud dog service.
Hunting Dog Breeds Raised
Braque Francais
Additional Services
Training, Stud Services
Breeder Contact Info
Testimonials (2)
Submitted by: Rod Barnhisel on Sep 12, 2019
We just purchased two puppies from Braque Francais Of Fox Grove kennels. We now have five Braques
Cindy was very helpful during the entire process from picking a pup to having food and instructions for the feeding process and the trip home.
We've had our pups for almost 2 weeks now. Cindy stays in touch with us to see how they are doing she genuinely cares about the pups and how they're being taken care of.
She has one of the best and cleanest set ups I've ever seen from a breeder to take care of the pups from her outside kennels and her fenced in yard to the inside area where they stay.
I highly recommend Fox Grove kennels
Submitted by: Rod Barnhisel on Sep 10, 2019
Cindy is a top notch breeder.
She was very helpful in every part of the process of picking out our new pup.
Her facility where she kept the pups was as nice as I have ever seen.
I have purchased several pups and know a lot of breeders and Cindy is as good as it gets.
Highly recommended
Submit your testimonial