Big Creek Shorthairs - South Carolina German Shorthaired Pointer Breeders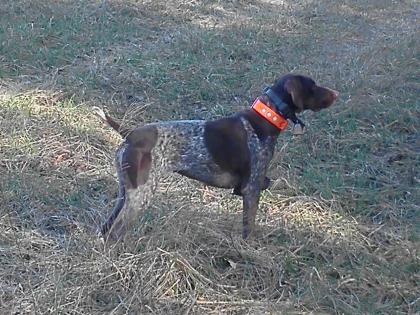 About Big Creek Shorthairs
We are a small kennel located in upstate South Carolina. We strive to produce the perfect companion both in the field and in the home. Our dogs are currently being used on hunting preserves on quail, pheasant ,chukkar and woodcock. Our dogs have champion bloodlines that produce a well tempered dog whom is eager to please. We have on average 2 litters per year. When you purchase a puppy from Big Creek Shorthairs you will have the assurance of getting a well bred, well taken care of puppy you can bring home with confidence. We also offer finished and started dogs. call for availability. Thank you very much for your interest!
Hunting Dog Breeds Raised
German Shorthaired Pointer
Additional Services
Hunting, Stud Services
Breeder Contact Info
Testimonials (3)
Submitted by: The Petros on Aug 17, 2014
This family is the best, the most down to earth ,honest caring . It is a place where you find your family, your family addition too. Casey has a great sense of humor . When I originally called to ask if Santa Claus was in town he knew what we were looking for . Our at the time 4 year old found his new best friend Christmas morning. Not only have they created an unbreakable bond but have also made friends with his family , human and canine alike. Our pup went to our family vet who has had 3 GSPs over her lifetime and was happy for us to have such a beautiful healthy dog. He has a great drive to please his family . Also a great working drive in nature and a great swimmer just like our family members born adventurer -loves to travel. We love this family and their pets! Would choose their pup over all in the world!!! Thanks for being so accommodating kind and easy to make it all happen !!!
Submitted by: Steve R on Sep 16, 2013
We got Bay from Big Creek as an older puppy, approximately 3 months old. I had been searching for a GSP with certain markings and disposition and most importantly to come from hunting dog stock. She has met and surpassed all of my desires. She is a classic liver/roan with good size built for the field and the water. She has a good nose with excellent hunt drive. And the feature most endearing is her loving desire to be with people. Currently is in training with a pro down in GA for upland hunting and is doing very well. I couldn't be happier. Casey is easy to do business with and I expect future buyers would have no problems either.
Submitted by: Nicki Moody on Aug 04, 2013
I purchased a puppy from Big Creek Shorthair Kennels for my boyfriend for Christmas in 2012 making the puppy about 9 months old now. I did not know much about the breed but Mr. Sokol took extra time to teach me a lot about them. The family kept me updated with my puppy threw pictures and messages until he was old enough to pick up. When i arrived to pick him up he was being pushed around the house in a baby stroler by the Sokol children. It was clear to see he had been handled daily and well taken care of, infact he was already starting to point. All of the dogs where healthy and very clean. Not only did i get my puppy but they gave me a folder full of information regarding his past, current, and future vet records. Today the puppy, Kasey, is already a great pointer and retriever and is incredibly smart. My boyfriend isnow looking forward to their first season in the dove field and duck hunting. I have not found anything this dog is not capable of and I feel very Fortunate to have found such a good breeder.
Submit your testimonial