Backfield Boykins - South Carolina Boykin Spaniel Breeders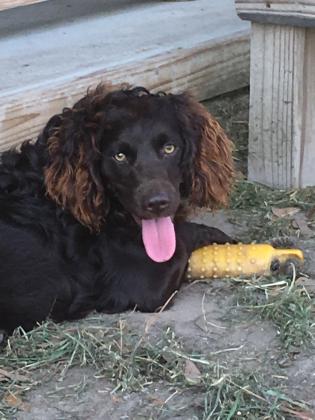 About Backfield Boykins
Backfield Boykins is small family owned  kennel who loves the little brown dog. We normally only have 2-3 litters a year. We make sure our dogs needs are meet before many other things. We live on a 5 acres track out in the country, and own 265 acres with 2 duck impoundments. We love to hunt ducks and doves with our Boykin's. All of our dogs are DNA tested for guarantee health clearance on generic disease. We condemm any puppy mills. We also offer stud service. If we can help you in any way please contact us and GOD bless.
  Thanks, Neil Doyle

Hunting Dog Breeds Raised
Boykin Spaniel
Additional Services
Stud Services
Breeder Contact Info
Testimonials (3)
Submitted by: Summer Cribb on Sep 07, 2022
We purchased our female Boykin from Neil. It was an amazing experience and she is now 2+ years old and she's never had any health problems, etc! He has a wonderful kennel set up, very impressed with the entire experience!
Submitted by: Shannon Berlinsky on Aug 16, 2021
We could not have asked for a better experience!! Neil is absolutely amazing! He was great with communication and answered all of my questions. He spent a lot of time on the phone with me discussing the breed. Our sweet Boykin, Coco, is the most beautiful, smart, sweet girl and we feel so blessed to have her as part of our family. She is away at training now and learning so quickly according to her trainers. Thank you for everything Neil!
Submitted by: Jordan Barwick on Apr 21, 2020
We got Dodge from Neil back in October 2017. Dodge is such a great family dog and hunter. His temperament is perfect for curling up at your feet when its time to rest, but when its time to run he's got the energy. Neil was great to work with as well. He was very personable and friendly. His knowledge about boykin spaniels was exceptional and you could definitely tell his love for his dogs. When we saw his kennel set up we were instantly impressed by how much effort he puts into taking care of his dogs and puppies. You will not be disappointed if you get a puppy from Neil!
Submit your testimonial