Holzstrom Shorthairs - Rhode Island German Shorthaired Pointer Breeders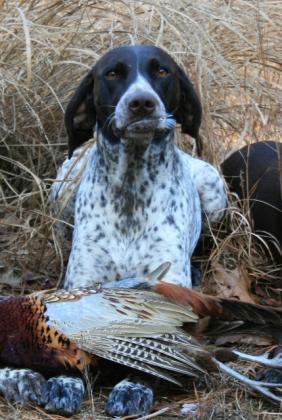 Hunting Dog Breeds Raised
German Shorthaired Pointer
Breeder Contact Info
Testimonials (3)
Submitted by: Caroline Moriarty on May 06, 2014
Leslie and Lonnie are AMAZING breeders. They were simply born to do this. They breed astonishing dogs. My boy turns four tomorrow and I am still in contact with Les and Lon. My dog came with the natural ability to hunt and required extremley little training. He is the best dog I have ever owned and would highly recommend Holtzsroms to anyone else that is passionate about German Shorthaired Pointers.
Submitted by: Tim Niejadlik on Aug 04, 2008
We have known Lon&Leslie for several years and have never met to more dedicated breeders. They are very sincere in placing dogs with owners who hunt,care for animals, and like to learn from the best. They have helped me train, gotten me involved in NAVHDA, and AKC hunt tests, and AKC conformation shows. We are currently sharing ownership of another fine Holzstom pup and couldnt recommend them any higher.
Tim Niejadlik
Submitted by: robert moerman on Dec 08, 2006
Lon and Leslie Ruddock are wonderful people who are dedicated breeders. When I purchased Hannah from them, I had no idea what an impact Hannah would have on my life! I am a hard hunter! Being retired from law enforcement after 32 yrs, my passion is hunting! Leslie guided me to the bird dog I have ever owned bar none, Holzstroms Hannah of Abbelane. She was a grouse finding machine! She would point them in trees! If I missed the grouse, she would look at me, bark once at me in disgust, and would relocate that grouse, and give me a second chance. I will not go into detail what she would do if I missed a second time! She would also retrieve ducks and geese out of frigid water, which most dogs would not. I was so impressed with her I purchased a 2nd dog, my beloved Libby from them. You will not find better breeders and better people than Lon & leslie Ruddock. Rob & Judy Moerman abbelanekennels.com
Submit your testimonial