Zomarick Golden Retrievers Rustiques - Quebec Golden Retriever Breeders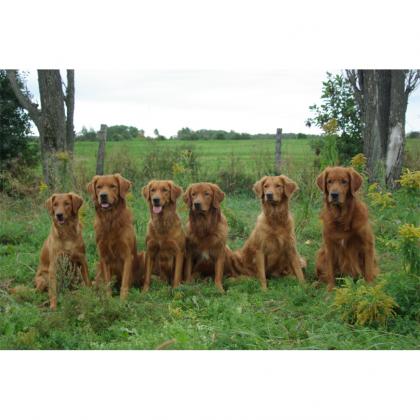 About Zomarick Golden Retrievers Rustiques
High standard goldens for working homes, great energy, high aptitudes for hunting and sporting events (hunt tests / field trials / work certificates) as well as Search & Rescue, highly trainable and... flamboyant dark coat color ! Plus all that great golden temperament, generous and devoted ! Excellent pedigrees that can be found at www.k9data.com
Shipping arrangements can be made to major airports almost anywhere around the world. Contact us by email (zomarick@yahoo.ca) for pups availability and for more information !
k9ly yours,
Djanick Michaud and Team Zomarick
Hunting Dog Breeds Raised
Golden Retriever
Additional Services
Training, Stud Services
Breeder Contact Info
Testimonials (2)
Submitted by: michael omalley on May 21, 2016
I bought the dog from a breeder in Bethel, Maine (Justine Carver) and the sire was "tank" from your line of goldens. It is a wonderful pup and has a strong desire to hunt and seems afraid of nothing. He looks so much like his father and is 70 pounds at 15 months old.
Submitted by: michael omalley on May 21, 2016
I bought the dog from Justine Carver of Bethel Maine and the sire was "tank" from your line of Goldens. a super dog that has a strong desire to hunt and swim. It is 70 pounds at 15 months old
and looks so much like his father
Submit your testimonial