Perdrioles Kennel - Quebec Deutsch Langhaar, French Spaniel Breeders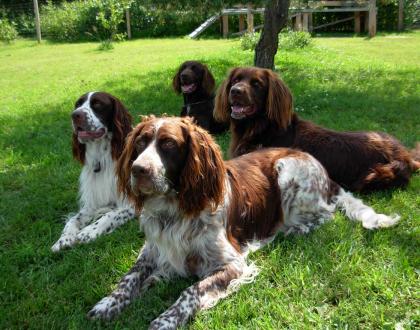 About Perdrioles Kennel
Perdrioles Kennel and Outfitter Breeding French spaniel and glp's. Guiding for waterfowl (ducks and canada geese) and small games(grouse and woodcock)with dogs. Also, the only outfitter in Quebec, offering black and cinamon bear hunts. Great hunting territories for white tail deer with remote camps. Come visit us!
Hunting Dog Breeds Raised
Deutsch Langhaar, French Spaniel
Additional Services
Hunting, Fishing, Lodging, Meals, Training, Stud Services, Boarding
Breeder Contact Info
Testimonials (4)
Submitted by: John Scott on Nov 29, 2022
Great breeder.
I live in North Carolina
I wanted a real hunting dog and that's wath I've got!
Leslie the breeder is very professionnal and knows it's breed better than any body else in America!
FBVAF
I recommand him Big Time!!!
John Scott
Submitted by: David Leitner on Nov 16, 2022
I have a cabin in western Maine and wanted a pointing dog for hunting grouse. Leslie… who is a hunting guide and French Spaniel breeder fixed us up with a great dog who has fantastic drive and stays at a comfortable range for me as a foot hunter. Perdioles in Quebec will not disappoint!
Submitted by: Sylvio Garret on Jul 19, 2016
Great breeder in Canada!
Unfortunatly, many breeders in Quebec but this guy...
He knows the breed and he's a real HUNTER!
I would recomand This kennel any time!!!
Submitted by: John Abott on Nov 11, 2011
Great service and beautiful dogs!
I got my dog from this breeder and enjoy every minute of it!
I would recommend him to anyone that is looking for a great hunting companion!
Submit your testimonial