Zayge's German Shorthairs - Pennsylvania German Shorthaired Pointer Breeders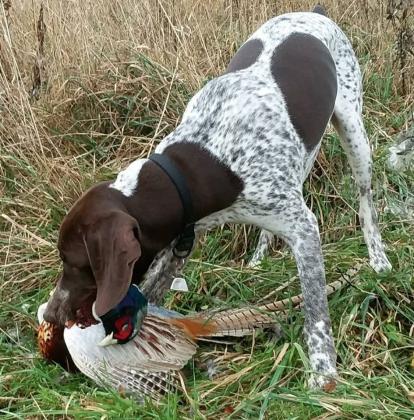 About Zayge's German Shorthairs
We are a small, family based kennel. We have retired Jackson and Dakota, and we currently have Zayges Bolt Action, aka Mauser and Freestone's Green Lightning, aka Brenny. Brenny's ancestry reflects avid, successful hunting and Mauser's ancestry reflects versatile breeding between master hunters, performance and family dogs. All of our dogs and their puppies are raised in our home, around children, farm animals and lots of fields to run and hunt in! We are very proud to be renowned for producing very versatile dogs that can do anything their owners ask of them. From therapy dogs, search and rescue, to the top hunter in the field these bloodlines leave zero room for disappointment!
Hunting Dog Breeds Raised
German Shorthaired Pointer
Breeder Contact Info
Testimonials (4)
Submitted by: Barbara Peace on Dec 22, 2016
After our elderly GSP died passed away, I swore the next one would be a family dog/hunter who did not kill cats or chickens in his spare time. I sought out a pup with perfect hunting breeding, but family-oriented upbringing. Our first dog from Bob, "Duke" is a magnificent hunter, seasoned traveler, certified service dog, and friend to our cats, chickens and livestock. This past spring we added "Scout" from Bob's January litter. Again, a voracious hunter like her half brother with all of the extras bells and whistles! Both dogs have learned quickly, are natural hunters who cannot wait to get in the field, and tremendous family dogs who are share our bed!!!! We have had no physical issues with these purebreds, either!! I highly recommended doing business with this family!!
Submitted by: Jim on Mar 05, 2016
Very nice family everything was in order and ready to go. The puppy is great and a fast learner also is great around people and kids everything I wanted in a German short hair. Thank you Zayge's German shorthairs
Submitted by: Joseph P. McEvoy Sr. on Feb 27, 2016
GREAT,GREAT dog and breeder. Bob Jr. knows what he is doing. Any questions I had he answered.This is my first GSP, but not my first bird dog. I looked for a breeder for over a year and I new from the start this is the breeder and dog. From the day I brought Max home he was great. Especially with my FOUR grandkids ages 11yrs. to 16mon. GREAT GUY GREAT DOGS
Submitted by: Brian Oechler on Apr 05, 2013
We got hank about a month ago. He truly is an amazing dog and was raised very well. Great breeder
Submit your testimonial