Triumphant Kennels - Pennsylvania American Brittany Breeders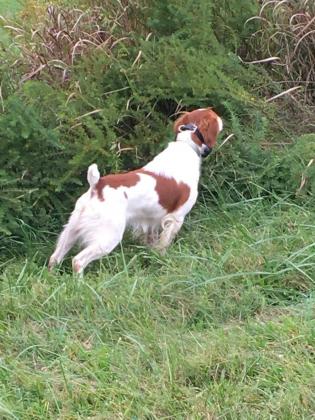 About Triumphant Kennels
40 Years of breeding AKC/FDSB Dual Quality Brittanys. Dogs who hunt as well as posessing proper breed size & type. Dual & CH Stud dogs / puppies / started dogs occasionally available.
Hunting Dog Breeds Raised
American Brittany
Additional Services
Stud Services
Breeder Contact Info
Testimonials (4)
Submitted by: Sharon Prochazka on Apr 17, 2014
We love our Brittany that we purchased from Linda in August of 2002, she was born 6/29/02 and is still living a happy, active life. I can't believe she is almost 12, she is the absolute best dog with children, our own smother her and she is loving to everyone she meets. I almost want another brittany puppy! Keep up the awesome work so we can return to you someday. Thanks so much, we can't say enough about our sweet dog.
Submitted by: Joe & Jan Sarno on Mar 01, 2014
We have bought to Brittanys from Linda and one is still with us and she to me is the best breeder anywhere, very healthy and great dogs.
Submitted by: Michael Kaplan on Oct 12, 2013
We got our beautiful little girl Shayna from Linda over 5 years ago. Shayna is loving, healthy, smart affectionate and beautiful. Linda does a great job with her breeding program. We would definitely get another pup from Linda.
Submitted by: jennifer on Apr 13, 2008
One of the best brittany breeders in the country. Top notch show dogs and field dogs! She is very dedicated to raising the best sort of brittany. I purchased a beautiful brittany from her over 13 years ago and she has been the best dog. We still own her and she has been a very healthy loving dog.
Submit your testimonial