---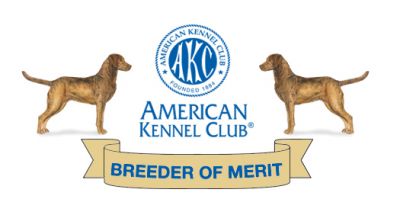 42 YEARS OF RAISING THIS WONDERFUL BREED
FOLLOW US ON FACEBOOK FOR UPDATES ON OUR DOGS  

POND HOLLOW CHESAPEAKES
---
Home of working Chesapeakes who excel in looks and temperament.  All health clearances and written health guarantees.  Our dogs are family and we would love to help make a Chesapeake part of your family.

WE DO COMPETE IN ALL TYPES OF AKC VENUES.
WE DO PERSONALLY TRAIN AND HANDLE OUR DOGS TO TITLES.
OUR BREEDINGS ARE CAREFUL RESEARCHED.
WE DO SELECTIVELY MATCH PUPPIES TO BUYERS NEEDS.
WE DO HEALTH TEST ALL OF OUR BREEDING DOGS.
WE OFFER WRITTEN GUARANTEES.
WE OFFER YOU A LIFETIME FOLLOW UP.

WE DO NOT RAISE ANY OTHER BREED !
WE DO NOT RAISE 7-10 LITTERS AT A YEAR !
WE DO NOT HAVE  "FRANCHISE"  PARTNERS.
WE DO NOT JUST SELL DOGS!

---
     We have been involved with the breed since 1976. 

We have bred over 300 AKC Titleholders
Service dogs; Search & Rescue dogs
20 Different Pond Hollow dogs have earned MH titles.
Outstanding Conformation dogs-Specialty BOB;Group Winners US, Canada & Overseas

Tracking Champions in US & Canada
MANY MANY wonderful companions and hunting partners !
Other breeders for improvement of their own dogs value our dogs since we have rigid requirements for temperament, conformation and hunting instincts.



Pond Hollow dogs are known WORLDWIDE. Pond Hollow dogs form the basis of many many Chesapeake kennels
---
SELECTIVE BREEDING FOR ALL VENUES
   Gun Dogs, Companionship, Hunt Tests, Conformation, Agility, Obedience,  Dock Dog, Rally. 
Puppies planned LATE WINTER 2020- Ready March & April 2020 to take home.
CONTACT US FOR INFORMATION
GUN DOGS, COMPANIONS,COMPETITION

              OUR RESERVATIONS FILL QUICKLY SO ADVANCED RESERVATIONS RECOMMENDED

    PUPS ARE:

 Microchipped
 Enrolled in AKC Recovery Program in your name
  AKC Registered in your name
 First shots and wormings  

 We are happy to talk Chesapeakes and to introduce you to our "family".      Visitors welcome-just call or email ahead.  717-582-4997; pondholo@pa.net                   
                    REFERRALS TO OTHER BREEDERS WHO SHARE OUR GOALS AND HIGH STANDARDS.
Submitted by: Mark Emaus on May 13, 2017
Dyane,
We just lost Brooke's Treasure Lady. What wonderful memories we have of her for 14 years. The toughest, smartest, best duck dog anyone could possibly have. We lost a great one from you.
Mark and Rhonda
Submitted by: Polly Schaeffer on Aug 20, 2015
Hi Dyane,
Just wanted to send you an up date on Belvedere, whom I call Bell. She is 5 months old and weighs 58 pounds. She is eternally happy go lucky! She loves everybody and greets every neighbor with the fastest wagging tail and smiles! She wants everyone to pet her, and won't take no for an answer. She took a little while to housebreak. she only pooped once in the house, but thought that the inside was the best place to pee. She has been fully trained for about 6 weeks or more. She got spayed today and is even loving the vet! She is mainly an indoor dog, but doesn't mind the cold outside in the fenced in yard. She doesn't care for the heat, but loves the air conditioned house. All in all she is quite a wonderful dog! If we could only get her to sleep past 5 AM we would be totally thrilled. We did get the best dog ever and thank you for her!
Polly
Submitted by: Heidi Weaver on Aug 19, 2015
Good evening Dyane-
This pictures sums up Wrangler fitting into our family perfectly. He is off to Hunt training school at Troy Creek and is doing well. We miss him, but he will be home soon. You can see in this picture the love the kids have for him. Just thought I would share. He is a great dog and is learning so much so quickly.
He graduated from training with high marks from the trainer who said you would be very proud of his abilities.
Heidi Weaver
Submitted by: David DuFlo on Aug 19, 2015
Dyane
Thought I'd write to thank you for selecting Grady for us. He is everything we could have hoped for and then some.
We picked him up on May 11, 2007 and what a lovable lout he has turned out to be. Incredibly friendly with a huge smile that gets along with everyone yet protective enough to let strangers know he is present. He will swim for hours on end, hasn't miss a duck retrieve in 4 years and I hunt 3 days a week all season. You can tell from the pictures that he loves upland bird hunting and at 8 years old he still never seems to slow down. Even as an 8 month old puppy he just seemed to know how to quarter in front of the hunter. His first year we shot 44 birds over him and he just seems to get better. Very quiet whether we are trolling for hours on Lake Ontario or sitting in the duck boat, at least until someone brings out the donuts, and then he persistently talks until he gets what he wants. A little spoiled maybe but at 118 very solid pounds who would rather sit on your lap than the floor he is gifted in letting us know what he wants.
Thank you again for providing us with an incredible pet, companion, hunting partner and man's best friend.
Respectfully
David DuFlo
Submitted by: Emelise Baughman on Aug 19, 2015
Here is a picture taken at the Northern Flight Hunting Retriever Association's Hunt Test 8/23/14. Pond Hollow Lt. Commander had just gotten his 3rd pass for his JH, and Pond Hollow Flying Prairie Sage Hen had just gotten her Junior Hunter title, handled by owner John Haugland. Nice!
Looking forward to seeing you next month.
Emelise
Submitted by: John Haug on Aug 19, 2015
Dyane,
Just wanted to give you an update, sage passed her final junior test on Saturday and got her JH title! She now has a NAHRA started title and two passes at hunter along with her JH title now!
It was fun because pond hollows lt. Commander was there and we got a picture with the two pond hollow pups and there ribbons (they have the pic and will send it to you)
All done with tests this year and on to hunting season senior next year and will see what happens, she's a awesome marker!
Hope all is well
John
Submitted by: John Sotis on Aug 19, 2015
Hello Diane and Bill,
What a puppy!! ....
Bogie is a wonderful chessie pup ... energetic, playful, extremely vocal ... and soooo affectionate. Its been slow and incremental with Caleb .. as he tends to herd Bogie around in the house. But they get along and play well, especially outside and next door with the two Goldens. Bogie is learning some basic commands at home before he starts school in about a week. Already he goes for long "walks" with Jim in his power wheelchair .. trotting along smartly. He's a different looking pup than Caleb was at the same age ... longer in the torso, whereas Caleb was and is more short-coupled and deep chested ... but Bogie is gorgeous just the same!
Submitted by: Frank Pittelli on Aug 19, 2015
Just an update Dyane
Hunt training is going well. Molly earned her 1st JH pass today and received a very nice rosette from the Susquehanna Retriever Club. There was an anxious moment (for me) when she had to deal with a crippled bird on the first mark, but she brought it back and completed the task.
Submitted by: Susan Mallory on Aug 19, 2015
As you can see from the pic Munson loves his new family whereas Nicklaus is still adjusting. Nick is doing better as the week progresses-I'm working hard to make sure he doesn't feel left out! Munson is adorable-very smart cute and a total sweetheart. My vet was impressed with how well muscled he was already. Thank you for giving me a terrific addition to my family!! You were wonderful to work and enjoyed meeting all your doggy family.
Very best,
Susan
Submitted by: Kelly Gersen on Aug 19, 2015
Hi Dyane, it was so nice to meet you! Rudder is adjusting nicely. We are enjoying her every minute with her she has the BEST little personality! You picked the perfect puppy for us we can definitely tell you have been breeding Chesapeake's for over 30 yrs! We were so impressed w/ your kennel and hope to adopt another Chrssie one day!
Rudder has had so much fun with us! She has gone swimming in our pool, a ride on a Hinckley picnic boat walks all over ( she gets tired so sm walks) and the visit to the vet. I hope you don't mind but I gave your info to one the vetticians, she wants to buy one. Everyone in the office went crazy how gorgeous and perfect Rudder is. We are beyond happy that we have one of your dogs!! We get stopped all the time too as people are amazed how gorgeous sweet Rudder is!
Just wanted to give you an update! We hope you are having a well deserved vacation we just have 1 puppy which is a lot of work and you had 9!!
Thank you for such a fantastic puppy!! We will keep in touch & look forward to another dog den the rd!
Thanks!!
Kelly & Ted
More Reviews for Pond Hollow Chesapeakes GUN DOGS & COMPANIONS
Submit your testimonial