Leyline's Tollers - Pennsylvania Nova Scotia Duck Tolling Retriever Breeders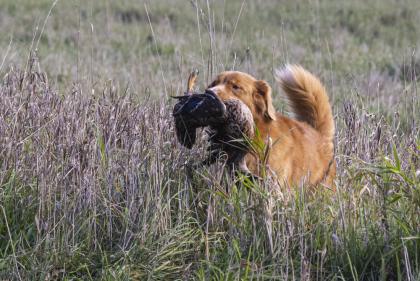 About Leyline's Tollers
Leyline's has been breeding, raising, and hunting with their Tollers since 1994. Leyline's breeds Tollers as a hobby and not as a business. Breeding dogs are hunted. All dogs are extensively health checked with health clearances listed on OFA. Puppies sold on a contract. Contract requires owners participate in a puppy training program at an approved training facility between 10 weeks and 1 year of age. Pups receive initial round of vaccines, microchips, and health certificates. It is difficult to always return telephone calls, so please E-mail me for brochure with history and questionnaire and if you get voice mail please call back again. �
Happy hunting. Taking deposits on a litter now, 4 males, 3 females.
Francine Kaplan
Leylines Tollers
AKC Breeder of Merit Bronze
�
Believe in the Magic of Your Dreams
SR JALAPA'S SCOTIA KETRIEL WCI CD VCI CGC (Therapy dog), deceased.
SR ARBA GR/NSDTR CH SAGEWOOD'S HARD DAYS NIGHT CGC�CD (CAN & USA) WC VCX�NSDTRC ROM (former Therapy Dog), deceased
NSDTRC/AKC CH ONEPENNY'S ROXY REDLIGHT WC (deceased 2018)

NSDTRC/AKC CH LEYLINE'S STOP DROP & ROLL, CGC WC,� RIDLEY
GCH CH LEYLINE'S LIQUID SUNSHINE CGC, GEMMA
NSDTRC/AKC CH LEYLINE'S CALL OF THE LIST JH�WCX CGCA, CORT (At Stud)
CH LELYLINE'S STILL I RISE CGC, MAYA
Hunting Dog Breeds Raised
Nova Scotia Duck Tolling Retriever
Additional Services
Stud Services
Breeder Contact Info
Testimonials (4)
Submitted by: Andrew Conkey on Mar 01, 2016
I have owned a puppy bred by Fran for almost 2 years now. She is extremely knowledgeable and always willing to respond to any questions I have about the breed. My puppy is well mannered and healthy, and I can't thank Fran enough for all of her hard work and support. I would highly recommend anyone interested in a Toller to speak with Fran, and would recommend her to a friend.
Submitted by: Jennifer Hollis on Feb 22, 2016
I own a dog that Fran bred and she has been an incredible mentor and friend over the years of owning my Toller. I am so happy that she was my dog's breeder because the support she provides is phenomenal. I wouldn't have gotten into showing or field if it wasn't for her support and mentorship. She is always there if I have any questions about my Toller or if I need help with anything related to owning a Toller. I would highly recommend Fran as a breeder.
Submitted by: Linda Titerence on Oct 06, 2012
We got Zeus from the above litter and OMG - he is a phenomenal puppy and Fran has given us the most incredible support as he grows. He just won Best of Winners at the Wrightstown Dog Show and he is a swimming, retrieving machine. Thank you to Fran for all her help.
Submitted by: shawn l ruppert on Nov 13, 2011
The breeder was very pleasant to deal with. She opened her house to us, so we could see the puppies grow. She is soooo knowledgable about the breed. After 2 years of owning our toller, she is still keeping us inform of things with the breed. P.S. This is a duck retrieving machine!
Submit your testimonial