Keystone Gun Dogs - Pennsylvania German Shorthaired Pointer Breeders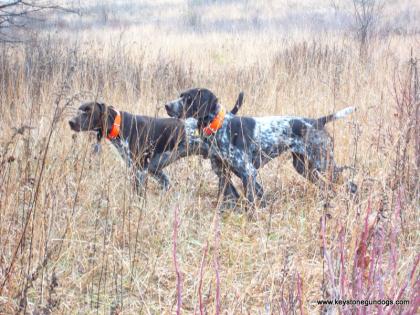 About Keystone Gun Dogs
KEYSTONE GUN DOGS HAS STARTED MALE PUP FOR SALE. OUR NEXT LITTER IS PLANNED FOR JANUARY WITH PUPS READY TO GO APPROXIMATELY IN MID-MARCH 2018. WE HAVE A RESERVATION LIST STARTED. THE JANUARY LITTER IS BETWEEN RUGER AND BRITTA. IF INTERESTED IN RESERVING A PUP PLEASE SEND AN EMAIL TO KEYSTONEGUNDOGS@YAHOO.COM THANKS! VISIT OUR WEBSITE AT WWW.KEYSTONEGUNDOGS.COM AND CLICK ON THE PUPPIES TAB FOR PHOTOS AND INFO! THANKS! OR CALL (570) 228-9726 WE ARE ALSO PLANNING A LITTER READY TO GO IN JULY 2018 BETWEEN KIMBER AND MASON. PLEASE VISIT OUR WEBSITE AS THERE IS TOO MUCH INFO TO POST HERE! CONTACT US AT keystonegundogs@yahoo.com THANKS! Since 1980 Keystone Gun Dogs have been raising, training and showing Top Quality AKC registered German Shorthaired Pointers. We are active in AKC Hunt tests, NAVHDA training and testing, as well as testing our dogs for Therapy Dogs International, Inc. and the Canine Good Citizen Test. Our dogs have been featured at the Meadowlands Sportsmen's Expo and on the TV Show Pennsylvania Outdoor Life. We breed GSP's for hunting ability as well as the temperament that will make our dogs outstanding members for your family. We pride ourselves to breed only sound healthy adults. We are not a kennel. We are vigilant breeders. We breed only select animals not only to offer the highest possible quality German Shorthaired Pointer puppies for sale, but to also benefit the German Shorthaired breed. Our reputation goes out with each puppy we sell and that means we sell only quality German Shorthaired Pointer puppies. Our litters will prove to be another successful result of a breeding with a purpose, combining the beauty of show champions with the strength of the field champions. The culmination of Beauty, Disposition, Power and Grace!
Hunting Dog Breeds Raised
German Shorthaired Pointer
Breeder Contact Info
Testimonials (3)
Submitted by: Morgen on Jun 23, 2010
Our dog Morgen came out of the Spike and Journey 2007 litter. Not only is she very beautiful but she lives for birds. She is smart, funny, loving, and always willing to learn new things.
Marie really cares about her dogs and puppies. The quality of the litters is amazing. Would highly recommend getting a Keystone pup. You will get a great friend and a solid hunting companion.
Submitted by: Jessica Carrino on Sep 16, 2009
I got my pup, Bella, from Journey and Spike's 2007 litter. Now I grew up with nothing but GSPs being the family dog and thus far Bella has been by far the sweetest and most willing to please dog I have had. She has a fantastic nose and has a real drive in the field. Also she has a beautiful coat, as do the rest of the pups from that litter. Marie has an eye for breeding these dogs. All are great quality dogs. I'd recommend this breeder to anyone. In fact, one of my co-workers is in line for her Feb. 2009 litters!
Submitted by: Jan on Jul 18, 2008
We got our dog, Otto, from Keystone in July 2007. He has been one of the best dogs I have owned. His nose is great, he is beautiful, but best of all his personality is friendly, curious, funny and extremely willing to please. When our family is ready, we will call Marie and get another friend for the family because that is what he is.
Submit your testimonial