Allegheny Brittanys - Pennsylvania American Brittany Breeders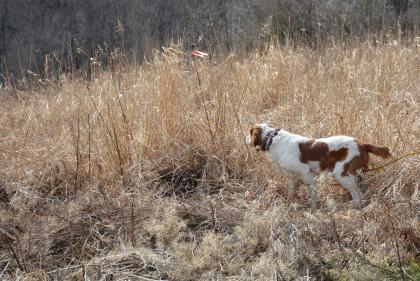 About Allegheny Brittanys
Allegheny Brittany pups are from championship bloodlines including, NAFC FC AFC Piney Run Sam, 3X AFC Champion Suemac's Carolina Belle, and Twinceder Belle, who had multiple grouse trial championships, Ed's Frederick, from the famous John Edward's line of great Brittanys, FC/AFC/JDZ Cut N Edge Codi, FC/NAFC/Allmacks Dark Smoke, and DC/AFC Locar's Cross Ruffing. Both parents are on the premises. They are very intelligent, great hunters with excellent noses, and excellent family pets. These puppies are raised in our home and come with a two year health guarantee. They had their dew claws removed and tails docked, and will have their first shots. Born 4-14-2020. $600
Hunting Dog Breeds Raised
American Brittany
Additional Services
Stud Services
Breeder Contact Info
Our Pedigrees
Testimonials (2)
Submitted by: The Statler's on Jan 22, 2011
Knowing we wanted a Brittany for a family dog and to take hunting - and after doing a lot of research and sending many emails, we came across Jim Johnson and Allegheny Brittanys. We selected the a female from Scout and Belle's litter born last April. Kassie is such a fun puppy and gets along well with anybody she meets. We started training her in the backyard with pheasant and grouse feathers and she's become a great hunter in the past few months. She loves running around in the woods looking for birds. We couldn't be happier with Kassie and our experience.
Submitted by: The Kiel's on Nov 16, 2010
My family wanted a puppy to keep our 9 year old Brittany, Moon, company. We visited Allegheny Brittanys in May 2010 to see Scout and Belle's puppies that were born on April 2. We fell in love with the runt of litter and named her Rayne. She is a wonderful little girl and has been such a joy to have. She is absolutely beautiful and loves being a part of our family. She gets along well with Moon and we can't imagine life without either of them. Rayne is very, very intelligent and she knows many commands and listens well, especially for a 7 month old puppy. Rayne is such a sweet puppy and we are so happy we chose to make her part of our family.
Submit your testimonial