Wireswest German Wirehaired Pointers - Oregon German Wirehaired Pointer Breeders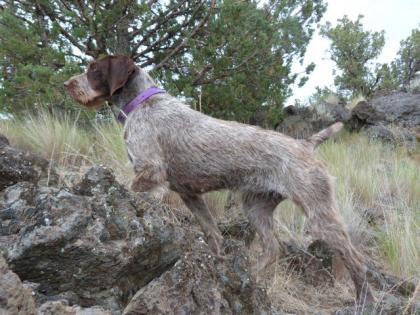 About Wireswest German Wirehaired Pointers
AKC and NAVHDA registered German Wirehaired Pointers. Wireswest GWP is not a commerical kennel but instead produce a small number of exceptional German Wirehaired Pointers with one litter (or a rare occasion of two) a year from carefully paired breedings of superior quality complementary dams and sires. We are committed to producing healthy, intelligent, and talented land and water hunting dogs that are also excellent calm family dogs.
We are avid upland and waterfowl hunters and hunt 40-50 days each year. Our breeding program is based on wild bird hunting performance with natural hunting ability, stable temperaments with biddable manners, correct breed standards, and multiple health clearances.
We exhibit and compete our German Wirehaired Pointers in AKC and NAVHDA field events to demonstrate natural hunting abilities for pointing, honoring, retrieving, stamina, boldness, desire, and nose. We also compete in AKC conformation shows to demonstrate correct breed standards for coat, structure, and conformation. Our breeding dogs are Dual Champion Titled in the field and conformation and are health tested to be free of hip and elbow dysplasia, thyroid, cardiac, eye (CERF), and Von Willebrands (vWD) diseases and are recorded with Orthopedic Foundation for Animals (OFA) and Canine Health Information Center (CHIC).
We breed exceptional bird dogs to exceptional bird dogs and stand behind our breeding program with guaranteed satisfaction on performance, temperamant, and health for our puppies. We have 2 planned breeding in 2013. The first litter is due February 20, 2013 by DC AFC Wireswest Mardi Gras x DC Dual Shot's Behind Bars NAVHDA NA P1 (dam x sire). The second litter is due March 5, 2013 by DC Wireswest First Dibs MH x DC Dual Shot's Behind Bars NAVHDA NA P1 (dam x sire).
Hunting Dog Breeds Raised
German Wirehaired Pointer
Breeder Contact Info
Testimonials (0)