vom King-Charles - Oregon English Springer Spaniel Breeders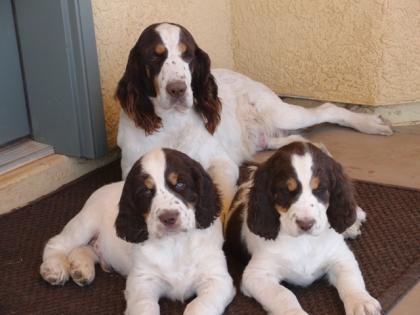 About vom King-Charles
I breed for many years finest English Springer Spaniels in all colors. My kennel startet out in Germany. I'm a hobbie breeder with max 2 litters a year. My breeding stock is 6 females and 1 male. If you get a puppy from my kennel you get a healthy, strong and big boned dog, the European old fashon style. I import Springers from top breeders overseas! Right now we have beautiful puppies for sale in all colors include roans.
This litter are bred out of the best German and American Hunting lines and they are the perfect blend. Visit my Website for more info. All dogs are health tested and OFA certified for hips PRA/PFK for generations and free of any genetic diseases. I give in an written contract a 5 year FULL guarantee for all genetic defects (heart, hips, eyes, ellbow) of all our puppies with full AKC registration, which is very hard to find.
Hunting Dog Breeds Raised
English Springer Spaniel
Additional Services
Stud Services
Breeder Contact Info
Our Pedigrees
Testimonials (5)
Submitted by: Ray Cashman on Oct 17, 2012
Elisabeth keeps her puppies inside her house for the first four weeks to watch over them. The puppies are then moved outside to a special puppy building with heat/air. They learn how to use a doggie door and adjust to being outside. At six weeks they are given the freedom to leave the kennel and socialize with the other adult dogs. All the attention given to her puppies in the first eight weeks makes them better adult dogs. If you are looking for a puppy that has been raised with love, talk to Elisabeth.
Submitted by: Cindy Jedinak on Aug 22, 2012
Our puppy, which is now a healthy 2 3/4 yr old female is the joy of our lives. The whole neighborhood is her family and everyone knows her! We are always promoting Elisabeth's dogs and I know there is a family with one of her dogs nearby:) Jesse (Lambada) is an avid hunter and is on her way to more intense "hunting training" this weekend. Thank you ever so much for our family member! We receive compliments daily on her disposition, manners and loving attitude!!!
Submitted by: Katrin Owen on Oct 10, 2011
My family purchased two (2) English Springer Spaniels from Elisabeth in September of 2010 - they have been the best bred Springers in the 15 years that our family has owned the breed. In our view, to qualify as truly outstanding Springer, they must have athleticism, be trainable, have sharp instincts, ability to track and most importantly health and soundness! Elisabeth's pups have all of these traits. The bonus is that they are also GORGEOUS in appearance. Both our veterinarians and dog trainer were wildly impressed with both pups' dispositions. You get what you pay for – nothing but high quality "vom King Charles!"
Submitted by: Ruth Eiseman on Jul 24, 2009
I bought a puppy from Elizabeth last March. I visited her home in Sierra Vista to select my puppy and was very impressed by her dedication to her breeding program, the excellent environment in which she raises her puppies, and the quality of her dogs. This is definitely NOT a puppy mill but a dedicated hobby breeder who puts the well-being of her dogs first and foremost. My puppy is a sweet-natured beautiful Springer and is in excellent health. I have also found Elizabeth to be very responsive to any questions I may have about raising a Springer puppy. When my puppy was stricken with Parvo, Elizabeth called me personally to offer emotional support. If you want a quality dog with a quality, caring,and responsive breeder, I strongly recommend purchasing a puppy from Elizabeth.
Submitted by: Holly Meneou on Mar 23, 2009
I bought one male black/white Springer from Elizabeth 7 months ago. I am now waiting for her next litter to get a liver/white female. These are the BEST dogs.
thank you Elizabeth for breeding such awesome dogs!
Submit your testimonial