Ultimate Water Dogs - Oregon Chesapeake Bay Retriever Breeders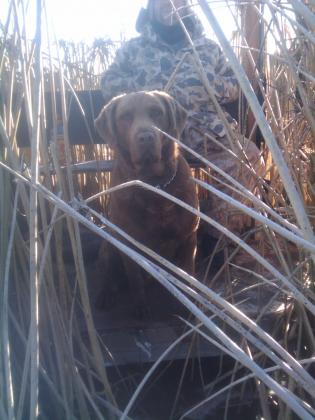 About Ultimate Water Dogs
We offer proven hunting dogs with calm gentle dispositions and excellent trainability. Veterinarian owned, OFA Certified, Health Gaurantee.
Hunting Dog Breeds Raised
Chesapeake Bay Retriever
Additional Services
Stud Services, Vet
Breeder Contact Info
Testimonials (3)
Submitted by: Bill Cancienne on Jan 18, 2012
We got our Chessie from Scott last February at 7 weeks old. She grew from a tiny pup to a larger than average powerful and healthy girl. A friend asked to borrow her for use as a filler to get the numbers up in a couple of regional dog shows. We allowed her to be entered and she ended up winning both shows, so we now have an avid and enthusiastic duck retriever who also has won two major dog show championships. Two weeks after winning at the Long Beach, CA "beauty pageant" my big ole mudder performed flawlessly during a three day duck hunt in the Louisiana coastal marsh, where she retrieved rings around a far more experienced Lab. Her unbridled enthusiasm coupled with her gentle disposition ( she gets along great with our house cat ) combine to make her a really wonderful addition to our family. We couldn't be happier that we have switched from lifelong Lab owners to our first Chesapeake Bay Retriever. Thank you Scott for a super dog.
Submitted by: Jim Porto on Dec 18, 2011
Great dogs,after having chesapeakes for more than twenty years,finally got a REAL CHESAPEAKE.Not alot of ducks and geese in the area,so we've been chasing the chukars,She has great nose and her marking abilty is outstanding.Hope to do some waterfowl hunting soon, out of state.Every where we go people remark about how beatiful she is. Scotts doing it right,these are exceptional dogs smart and easy to train.They look as good as they hunt.Contact me at my e-mail i've got lots of pics.
Submitted by: Colleen mills on Nov 29, 2011
Scott breeds the best tempers and wonderful personalities. Everone who meets my dogs comments on what a nice dogs she is. Best part about her is she an excellent duck dogs. At only 11 months she is retrieving doubles and triples, on her 2nd trip out she retrieved 21 ducks.
Thanks Scott for and excellent dog.
Colleen and Ken Mills
Submit your testimonial