TREASURE KEEPERS BRITTANYS - Oregon American Brittany Breeders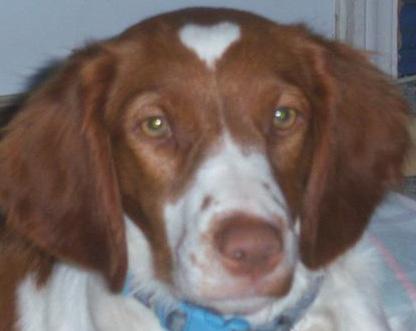 About TREASURE KEEPERS BRITTANYS
Treasure Keepers promises a happy, healthy puppy. Tk's Sterling Rose TDN TDI TDA CGC. Rosie's sister Jazz is bred Aug 1. Puppy applications are available. The dam is a hunting dog, with a Senior Hunter title competing for MasterHunter. Stetson is the sire and is a title Master Hunter Advanced. Both have exceptional pedigrees and both have OFA xrays of hips and elbows, rated Good. This is good. If I don't have pups, I can help you find a qualified, responsible breeder in some cases. I can help you get your puppy started. I can help you learn to get started in AKC, showing, hunting, obedience or health issues common with a sporting dog. I do best with obedience for puppies, (showing you how to work with your puppy so they don't bite and disobey. How to understand them a bit). If you found a lost Brittany, please contact NBRAN (National Brittany Rescue) And for those who've lost their Brittany, I truly feel your pain. Usually people only want a pup because they've lost one, but that's not required to just want to talk with someone who knows. As a Breeder of Merit, I have a contract. I will send it to you, and before taking your pup, you are required to sign it. Pups are microchipped with first vaccination, wormed and vet checked prior to adoption. They are completely AKC registered with their official names (partly of your name choice) If you don't plan to show or compete with your pup in AKC, you'll have a 'limited' registration. For show or competition homes, a 'full' registration WITH co-ownership. My goal is always to provide the very best quality of gundog, show dog and/or companion. I am proud to say my puppy Thunder has won the Futurity in Show, AND won the Field Futurity. This is quite rare. Brian Jean has handled him and is the first owner on the AKC papers, I co-own and am his breeder. The Futurity is where the breeders put their best puppies into a special show, once in the pups life, to see in a group how our pups compare to another in excellence. This is an amazing honor to win. And to win BOTH show and field. Thunder had never shown before. He's only one year old. Doing fantastic in the field, earning titles with first place, many times. I am located in Central Point, Oregon. I encourage and welcome you to visit and meet the family. If you are thinking about a Brittany and just aren't sure, come and see mine, and then you'll know if a Britt is right for you. Located off exit 33, from I-5. Parents are OFA certified prior to breeding. Pups stay with me until 7-8 weeks old. At that time, the litter is evaluated by a professional and by me to see if they are a show prospect or would be best in the field and see their best abilities so you'd get the right pup for your family. Each pup is vaccinated according to age, wormed, microchipped and vet checked (at least twice). They have an outstanding pedigree. The sire would be Grand Champion North Umpqua's Stetson The Singing Cowboy MH (Master Hunter)(Stetson). Rosie is quite a girl, eager to learn and working toward her obedience titles. Rosie is a fully trained service dog. (she is a Task oriented dog, gets things, opens the fridge, much more) She has three AKC titles. Due to health concerns I have retired from actively breeding, but am more than happy to help you in any way possible to learn show, compete, and in the right time, breeding competently and responsibly, by AKC rules. Begin by learning about your dog, the breed, health concerns common with the breed, requirements from AKC. If it's a mutt, spay or neuter your dog today. period. There is absolutely NO REASON to breed a mutt. NONE. EVER! A Doodle is not a 'breed'. If you have a new Brittany puppy (and some other puppies) and YOU need some guidance, reassurance, advice, troubleshooting or anything at all, please call. I can show you training techniques in my yard, no obligations, no fees. It's for the dog. It doesn't matter where you got your pup. As long as he is vaccinated, wormed, and you want to learn I'll be happy to help you. Even on the phone you can learn a lot about your pups. I am passionate about puppies and want to see them get the right start. That is everything, important. If you are looking for puppy or an older Brittany or a rescue, please let me know. I might be able to guide you to the right people. Know more on my facebook page, Treasure Keepers Brittanys PLEASE READ THE TESTIMONIALS AT THE BOTTOM here. and please leave your own. I can provide references. Treasure Keepers Brittanys Here's a list of some Title abbreviations. CH - Champion GCH - Grand Champion FC - Field Champion DC - Dual Champion, Show and Field CD - Companion Dog - obedience CDX - Companion Dog Excellent - obedience UD - Utility Dog - advanced obedience RA - Rally Advanced - obedience JH - Junior Hunter s SH - Senior Hunter TKN/TKI Trick Dog Novice/Intermediate CGC - Canine Good Citizen CGCA- Canine Good Citizen Advanced- obedience for anyone to try and qualify MH - Master Hunter
Hunting Dog Breeds Raised
American Brittany
Additional Services
Training
Breeder Contact Info
Our Pedigrees
Submitted by: Carolyn Allman on Aug 19, 2020
When I was looking for a Brittany puppy, Anne was an invaluable resource. Although she was no longer providing puppies for clients she helped me learn about the breed, she invited my husband and I over to meet her girls... all beautiful! I found a puppy from another breeder, the puppy had just been born, so I had 7-8 weeks to wait. I called her several times over the next few weeks while I was waiting for my puppy to be ready to go home and each time she shared her knowledge and wisdom about the breed. Once our puppy was old enough, she asked us to bring Gus over for a visit! She gave us training tips, toys and treats to use. She followed up with emails and more info. We so appreciate her expertise, knowledge, and passion for this breed and hope to stay in contact as Gus grows. Thank you Anne!
Submitted by: Ginny Fisher on Jun 29, 2019
My husband and I paid Anne a visit today to talk with her about her puppies. She is a wonderful woman whose knowledge of and commitment to these beautiful dogs comes through with every word she speaks. So happy to have met her and to have seen a glimpse of her accomplishments and love for her dogs.
Submitted by: Katie McGowan on Oct 30, 2015
This is a LONG overdue testimonial to this page. We got our boy Rogue (then known as Kaiser) back in April 2012. We already have 1 Brit who is almost 6, and they adore each other. Best friends for life. There is no one Rogue loves more in this world than his older brother Raley. He also adores his human grandparents and uncles. I couldn't imagine life without him and can't thank Ann enough for bringing him in to the world for us. I still remember the day we went to pick him out. What a wonderful experience. From the bottom of our hearts, thank you for everything. I love this boy more than I ever thought imaginable. He is quick to please, learns fast, is such a great runner and has a better nose than any other Brit I've known. He's also gorgeous. We call him our "pretty boy". He doesn't hunt but he loves and loves deeply and genuinely. He also enjoys being up in the hills with our family while the other dogs do their thing.
Submitted by: Andrea Swenson on May 28, 2015
Anne is a wonderful breeder. She truly cares about the Brittany breed and has set the standard. We traveled from Northern California and Anne was actually recommended by another breeder. We absolutely love our little girl! She is beautiful, healthy and smart. We hope to get another pup soon!
Submitted by: Kimberly Haynie on Dec 24, 2013
I decided I wanted a Brittney but really knew very little about how to select a puppy. I called Anne to see if she had any pups for sale. She did not have any at the time, and had never met me, but was still willing to share her knowledge and experience with me in a kind and patient manner. She help me focus in on what I really wanted in a Brittney and which competitive activities I would most likely enjoy. I was suprised at how easily and quickly she was able to help me gain clarity. Anne also gave me good advice on what kinds of question to ask a breeder of any pups I might be interested in, and she was willing to try help me find a pup elsewhere if I did not want to wait for her to breed her dam. Anne obviously cares very much about the Brittney breed and the people who are interested in giving Brittneys a loving home.
Submitted by: Kari Somerton on Jul 13, 2013
I have one of the current litter of Anne's pups and we are absolutely in love with her. She is 10 weeks old now and is everything we wanted. She is smart, sweet, cuddly, healthy and playful. She picks up new tricks so quickly and has already learned to retrieve as well. She is friendly to everyone and did not even flinch at the fireworks! As for Anne she is sincere, honest and easy to work with. She was generous with her time, and answered all my questions with her vast knowledge of Brittanys. I am so glad we came across her on this site and would recommend Anne as a breeder without reservation. Thank you, Anne, for the best puppy we could imagine!!
Submitted by: K Parks on May 09, 2013
I have known Anne for 2 years and have been to her property in Central Point many times. I acquired a rescue Britanny and needed a place to board him while on vacation, so I gave her a call. She has been a valuable resource for me and my family... training tips, health advice, boarding, and she has been gracious to allow my 2 youngest children to help socialize her most recent litter of puppies (Jewel/Major April 2013). Those puppies are gorgeous! Also I've known both Jewel and Major and would not hesitate to raise one of their puppies if I had the opportunity (but my wife says one Brittany is all for now). We will continue to board Jimmer with Anne when we are out of town; and my kids will always look forward to playing with her puppies each spring.
Submitted by: Angie Weaver on Jan 09, 2013
There just aren't words to describe how wonderful our experience has been! Carl and Dena Miller are just fantastic. We recieved the second pick of the male pups from Chip and Molly's litter. We live in No. California, but Carl kept us updated with videos and pictures on facebook. To top it off they brought our pup to our home on their way up to Oregon so we didn't have to make an extra trip down south.
We received Aragorn Sep. 18, 2012. He is eager to please, highly intelligent and super easy to train. He is the perfect companion and family dog.
We do a lot of hiking and camping and we wanted a dog that enjoyed being out in nature as much as we do. Aragorn is, in my opinion, the perfect dog.
Submitted by: Diana Miller on Oct 22, 2012
We met Anne 12 years ago when we purchased Molly 1 from her so we called her to purchase another Brittany this year. This past April Anne gave me the most incredible opportunity letting me attend the birth of Jewel's 1st litter of puppies. It was a long day and night but I wouldn't have missed it for anything. I had never seen puppies born before. Anne has a great deal of experience and made the whole event exciting and educational. I went to see the puppies twice a week for 8 weeks and watched how Anne started their training very early. We purchased a female from this litter, Little Molly III,she is our pride and joy.
The time and effort Anne puts into making these pups the best they can be shows true dedication. I believe the dogs have natural ability needed for hunting but Anne gives them a head start on confidence and exposure. All of the pups are her hands on projects which makes for intelligent loving dogs.
Thank you Anne for raising great pups and helping owners to raise great dogs. Diana Miller
Submitted by: Lisa on Sep 26, 2012
We brought our sweet girl home a few days ago. She is from the July 2012 litter from Carl & Dena Miller's Molly. Not only is she beautiful, she's got the best disposition and is so eager to please. She happily goes into her crate for naps and night time and has learned basic stuff in an amazing amount of time! We simply love her and she is a great addition to our family. Looking forward to all of our adventures and memorie! Thanks Carl & Dena for the love & work on this litter, an amazing pup! All of the love and work you poured into her shows! She has figured out the flow of the family and flows with us! Carly's quite content and happy! Super ball of busy fun! Thanks again!
More Reviews for TREASURE KEEPERS BRITTANYS
Submit your testimonial