Rock Llewellin Setters - Oregon Llewellin Setter Breeders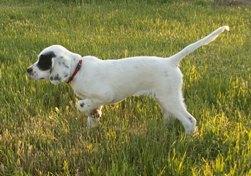 About Rock Llewellin Setters
Rock Llewellin Setters is in the early stages of a dedicated endeavor by our family to produce excellent hunting dogs.  Our first Llewellin Setter was purchased almost fifteen years ago, and we have since created a small, family-owned kennel that specializes in breeding this excellent strain in an educated, responsible, and deliberate manner.  Why? We found that our Llewellins encompass everything we wanted in a bird dog- stamina, hardiness, class, pure instinctive field abilities, charisma, gentleness, athleticism, intelligence, and biddability.  Our Llewellins are not only great hunters and active family pets, but they are also versatile, enjoy learning a variety of skills, and are great travel & adventure companions.  
We do all we can to ensure that the puppies raised here are high quality individuals that will make great field companions for the amateur and experienced hunter.
All of RLS breeding Llewellins have been FDSB registered, DNA certified, and OFA Good to Excellent hip rated from the start, and exhibit exceptional hunting ability, conformation, health, and temperaments. Additionally, from 2013 on, OFA Elbows, Thyroid, and eye testing will be completed.
The pups from RLS are given the best start possible in life with the Biosensor Program, extensive handling and socialization, individual in-the-home time, a high-quality nutritional program, beginning house-training/crate-training, early obedience training, wing/bird exposure, field/cover introduction, veterinary exams, appropriate vaccinations and dewormings, and introduction to groomings.
Pups are initially raised in a climate-controlled, well-sanitized whelping room under the close observation of the person staying with them and are later moved to outside kennels and the yards. 
All training will progress further for any pup that remains longer than the typical litter stay. 
Please visit the RLS website for information pertaining to the dogs, puppies, litter care, contracts, etc.  We also have rescue setters in the NW listed year round on the site, as well as many other resources. If you have further questions, all inquiries are welcome.
Hunting Dog Breeds Raised
Llewellin Setter
Breeder Contact Info
Testimonials (0)