Heaven Bound Kennels - Oregon German Shorthaired Pointer Breeders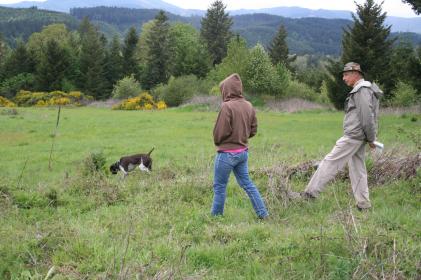 About Heaven Bound Kennels
We are raising a limited number of high quality easily trianable for the 1st time bird dog owner or the expert that are also excellent family pets. GSP's are very versitile hunters but can also do agility, obienence, shows, and therapy or service dogs. My 6yo son can even handle our dogs. I grew up with these dogs as our family pets and hunters. They are very healthy dogs and long lived. We health and hunt guarntee our dogs to genetic health problems and natural ability to hunt. Their genetics are filled with NAVHDA and AKC  hunt trial champions, also a long history of OFA certified hips and health.  STUD dog available as of FEB 2012 for 1st year breeding (Feb2012- Feb. 2013) stud fee will be $500 after Feb. 2013 stud fee will be $900 with gauranteed take. We are also open to some trading.
Please visit us on facebook and join us Heaven Bound / Amanda Copeland
Our next litter of pups will be bred March 2012 due May 2012 and ready for their new home July 2012. Vet check dew claws and tails removed at 3 days old at vets health check and vets shots at 71/2 weeks if desired along with a 2nd vet check and microchipped (I do some herbal traetment for my dogs so I understand if you choose not to have your pup given shots but I recommend it) I use a natural dewormer for both parents & pups, they also get extra herbal vitamins to ensure great developemnt and health. They are kid proofed, exposed to people, other pets (dogs, cats, horses etc) family walks, house time, kennel time, scent tracking, pointing, retrieving, and water exersizes
our breeding pairs first litter was hunting successfully at 5 mo's old.
 this litter will be $900 each accepting a deposit for 3 males and 3 females now pups go in pick order 1st come 1st serve. deposit of $200...each pup is gauranteed health and natural ability to hunt...spots filling up...confirmed breeding done. Planning a trip to EASTERN OREGON Baker City area after pups are 8 weeks old so delivery is possible.
good 2012 breeding we have 6 males & 3 female 5 males available and 2 females available.....now 3 1/2 weeks old
Hunting Dog Breeds Raised
German Shorthaired Pointer
Additional Services
Stud Services, Boarding
Breeder Contact Info
Testimonials (0)