Citrine Kennels -- Big Meadow Farm - Oregon Golden Retriever, Wirehaired Pointing Griffon Breeders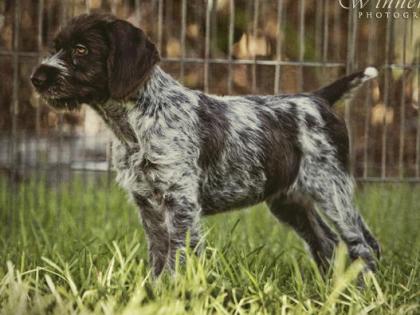 About Citrine Kennels -- Big Meadow Farm
Producing good gun dog pups from sound hunting stock. Ready to begin their training with you. Many titled dogs were born & bred at Citrine. AKC Senior, Master, Junior hunters. NAVHDA Prize winners. In addition, a good looking dog is appreciated at Citrine and I strive to put AKC bench championships on my breeding stock. A good hunter is also a correctly structured, sound individual.
Most pups go home with families that make their hunting activities enjoyable for the whole family, dog included. Most families don't show or test. That's perfectly okay ... but, they want a dog from proven stock.
In a typical year, a spring and a fall litter is planned. Reservations strongly recommended.
AKC Breeder of Merit & Member GRCA/AWPGA/OHA
Hunting Dog Breeds Raised
Golden Retriever, Wirehaired Pointing Griffon
Additional Services
Stud Services, Boarding, Birds for sale
Breeder Contact Info
Testimonials (4)
Submitted by: Scott Pudwell on Apr 02, 2013
Lynn is an absolute joy to work with and my wife and I can not recommend her enough. We are so happy with our Griffon and the time that Lynn took to educate us on the breed. She does a great job on working with you to establish if a WPG is the right dog for your family. We had a very difficult time with a couple other breeders, but Lynn saved the day for us. Her knowledge, openness, kindness, and contact ability were top notch. If you are considering getting a Griff, I would highly recommend getting one from Lynn. Her dogs and puppies are truly the best.
Submitted by: valerie j hicks on Dec 05, 2012
Lynn thank you for bring Aria into my life. She is a very beautfull golden girl. Every one who sees her can not get over how soft and gentle she is. Again thanks lynn. Valerie
Submitted by: Ann Gibson on Sep 17, 2012
Lynn is such a lovely person and she helped me so much through the process of learning about Golden Retrievers and how to obtain one. I want to thank her for taking time with someone who was new to the breed. She is a dream to communicate with and has such beautiful dogs; although I could not get a puppy at this time, I will return when I can.
Submitted by: John Ruttman on Mar 13, 2012
Citrine Kennels came highly recommended to my wife and I and we were NOT disappointed. Our puppy was pointing pheasant wings the day we picked her up from the airport. Lynn made the entire process incredibly easy and was a pleasure to work with. We start our formal NAVHDA training this weekend and if our pup holds true to form (I know she will), she will become an excellent hunting companion. She's already a wonderful member of our family and we couldn't have asked for more.
-John Ruttman
Submit your testimonial