Awesome Kennel - Oregon German Shorthaired Pointer Breeders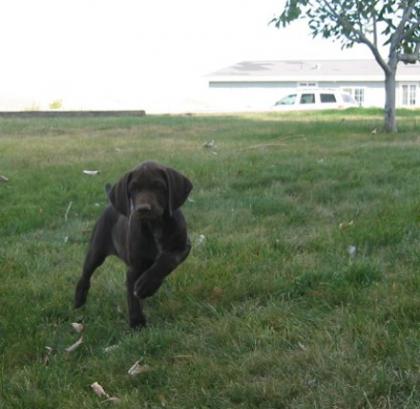 About Awesome Kennel
Awesome GSPS
I breed for calm family hunting companions. I recommend anyone looking for a hunting dog to buy one from a hunter. My husband and I hunt our dogs on our family's 1000 acre grass ranch. I provide training and guiding and have puppies and started dogs on occassion.
Hunting Dog Breeds Raised
German Shorthaired Pointer
Additional Services
Hunting, Fishing, Training, Stud Services, Boarding
Breeder Contact Info
Testimonials (7)
Submitted by: Ken and Shelley Free on Jun 21, 2014
We bought our boy from Patty in 2006. He's an amazing hunting dog and spoiled family member. We would like to contact Patty but have been unable to locate her. If anyone has contact information for Patty please let us know! Thank you
Submitted by: Kathy Polizzi on Nov 27, 2012
We bought our GSP from Patty in 2003. He is by far the best boy in the world. Loves to hunt but is happy to also just lay on the couch hanging with the family. His name is Hunter. I highly recommend Awesome Kennel. We couldn't have asked for better loving dog and one that is the goofiest also. Dealing with Patty was awesome. There were no problems or issues at all.
Submitted by: Hatgrooming@aol.com on Sep 03, 2012
I am a groomer who bathed one of these dogs( 6yrs old). She was a spayed family dog but she was the prettiest females I've seen in a long time. I had to ask where owner bought her because my husband and I have been looking for just the right breeder. Thanks Jerod. I can't wait to pick out our puppy in the next year or so. :)
Submitted by: Joe & Connie Staley on Sep 10, 2010
We bought TWO sisters from Patty in 2005 and they are the sweetest, most lovable, absolutely the best ever hunting dogs, and the first two dogs that we've ever had that actually mind! Not that we didn't give it due diligence on any other dogs we've owned over the last 20 years, but these two only want to please us. We love them so very much I can't even describe how wonderful they are. For sisters they are as polar opposite as can be and their differences make us laugh every day. We've never been able to figure out who the dominant female is because it varies with the situation. They love their people and we love them!!! You can't go wrong with a dog from Patty because they are absolutely the most AWESOME German Shorthair's you could possibly ever come across. Patty deserves a ton of credit! Thank you Patty for allowing Abby & Bella to become part of our family.
Joe and Connie Staley
Submitted by: Ory S. Marrioneaux on Jun 02, 2010
I purchased my GSP from Patty in 2006 She was excellent berore the sale with advice and reassurance as well as after the sale with follow up and concern. He is a great bird hunter here in Louisiana and has earned 2 obedience titles the last was his CDX. He continues to be a great companion at home and in the fields. I would go to her again for another four leg family member. Thanks Patty.
Submitted by: Mike and Margaret Panek on May 07, 2009
We purchased our shorthair from Patty 5 years ago. We are so happy with the way Kodi got his start. He is very calm and sweet. He is the delight and center of our lives.
Submitted by: Bill Schuck on Dec 17, 2006
I have a young male from Awesome Kennel. He is a beautiful boy and an excellent companion. He is everything I wanted in a hunting pet.
Submit your testimonial