2V's Wallowa Mtn.kennels - Oregon German Shorthaired Pointer Breeders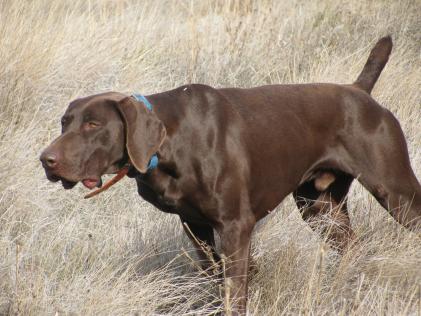 About 2V's Wallowa Mtn.kennels
Our 2018 litter is here, 5 boys and 4 girls, ready end Of July.If you are serious about getting a pup with a proven background ready for anything you may ask of them look at this litter. Through thr grparents there are conformation and performance titles on 3 continents. Sire Cedar is a registered Deutsch Kurzhaar, and in that system before the dogs are allowed to breed they must meet minimum scores in conformation, hips, pass a mental test and pass one of the upper hunt tests. Cedar's NADKC scores are Derby Pz 1 all 4's; AZP PZ 1 all 4's with a 4h in pointing, tied for top score in nation, and VGP PZ 1, third highest score in nation. The VGP is a very demanding 2 day test with 28 scoreable parts to it. Less than 3% of dogs eligible yearly take the VGP and prize in it, so Cedar had quite an accomplishment. His other scores are NAVHDA UT 1, VHDF PE 204. Cedar was also the top rated mDK male in the Western Region NADKC with a V1 rating from German judge Herr Hermann Joseph Shomaker. Cedar's mother and father both have as impressive or better scores than Cedar, and his grfather has multiple Ntl Retreiver titles in Australia,beating the labs, Ect at that game. Mother Shade is the 4th generation female we have raised and kept for breeding. She only has her NAVHDA NA so far, busy with Cedar. Her father had his AFRC FC VC and MH by 3 years age, and his grfather is the #1 producer of Litter Awards in the history of NAVHDA. Shades other grfather, INT CH VC Chance KS Vom Riverwoods IKP 1 NADKC 1 4X NAVHDA UT 1 was the first GSP to hold all 3 Int Hunt titles, Garmany, Austria, US. This is a repeat breeding, so we know what the pups will mature to be. Nice smart pups, with the desire, co-operation and trainability all these upper tests demand. Feel free to call anytime with any questions you may have or referenceson previous litters.
Hunting Dog Breeds Raised
German Shorthaired Pointer
Additional Services
Stud Services
Breeder Contact Info
Testimonials (5)
Submitted by: Diane Simmons on Jan 05, 2015
We have an 10 month old puppy from 2v whelped 3/5/14. We constantly have people stopping us and commenting what gorgeous animal she is. She has outstanding conformation.
She is very smart and easily trained both in hunting work, obedience, and is starting agility. She has a great nose, strong prey drive, and although I'm not a hunter, she has quickly figured out of the game of finding birds, steady on a point, & no problem with guns. She has incredible energy and quickly settles into a good pace for long days hiking or in the field. We have yet to encounter a situation that she has been afraid. She can also be very affectionate, and is a great house pet and traveling companion.
2v cares about their pups, stays in touch with you, & very much cares about the breed. I highly recommend their breeding program.
Submitted by: Westin Yancey on Dec 10, 2014
I cannot say enough about the quality of puppy I got from 2V's Kennel. This dog has shown so much drive and natural ability. I came to GunDogBreeders.com looking to find a big strong male puppy that would hunt hard and did I ever find that.
This dog would jump off a mountainside after a bird if you told him to. Great nose. Eager to please. Works himself sick in the field. If your looking for a good bird dog and a good looking representation of the breed. You'll find it here.
Submitted by: TJ and AJ on Sep 19, 2013
AMAZING QUALITY! Our dog coloring is breath taking, it was really hard to choose which pup in the litter was the most beautiful. Our dog Ruger is the smartest, most prey driven dog I have ever seen. It is easy to see how much they put in to the quality of their litters and dogs. Wayne even offered to help with hunting training. You do not get much better than that. My husband and wanted a German Shorthair Pointer for three years and after he was honorably discharged by the United States Marines we began searching for breeders, Wayne and his Wife are leaps and bounds better than any other breeder in the state of Oregon and I would even be as bold as to say the entire North West. My husband and I met with/ and or spoken with 12 breeders, 3 from Idaho, 2 from Washington and 7 from Oregon and NONE of them were as passionate as 2V's. I am proud so say I got my pup from them. Seriously, look no further their pups are worth the wait.
Submitted by: Joseph Reitmeyer on Jan 13, 2013
Wayne and his wife were great, the puppy arrived healthy and smart! My dog has great personality, intelligence, demeanor and very sharp handsome features. I would highly recommend this breeder to anyone looking for a good bird dog or a great companion dog. I will defiantly be going back to 2Vs for my next GSP.
Submitted by: Melissa on Feb 13, 2011
One of the best pups I've ever had. Beautiful markings and super sweet personality. He's a bird through and through, but is able to turn it off and chill out! Wayne was really helpful...made arrangements for shipment of puppy to us with no problem. I would recommend buying from this breeder again and again.
Submit your testimonial