Wardensown Reg'd Kennel - Ontario Labrador Retriever Breeders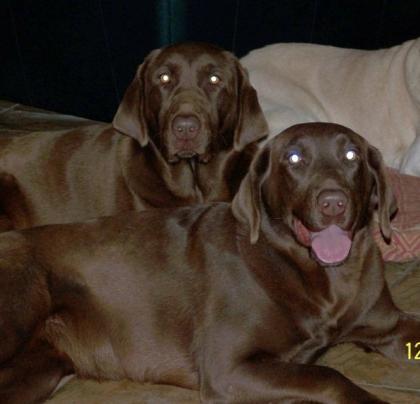 About Wardensown Reg'd Kennel
We only breed top American Bloodlines, we are CKC Registered Kennel under the name of Wardensown Kennels, home of Family and Field Labrador Retrievers, we have dogs from Goose Bay Labrador to Las Angeles California and everywhere in between, we breed all three colours, all breeding adults have hip, eye and elbow clearances, we are entering our 18th year in business.
Hunting Dog Breeds Raised
Labrador Retriever
Breeder Contact Info
Testimonials (1)
Submitted by: Jaline Paul on Oct 04, 2013
All I can say is, my Lab is everything I've ever wanted and so much more! Mocha is from the first breeding of Windcrest TNT "Nitro" and out of Aspen Acres Elwoods Shylo "Shylo" (an Elwood) in 2005. I was 13 when I picked up my puppy, with a neighbour who helped me pick the right breeder and drove the 8hrs! The place really looked great and all the dogs were real happy and in excellent shape. I was very fortunate to be entrusted with a puppy at that age, but the breeders trusted that I would do a great job. Mocha was and is still a very easy to train dog at 8yrs old, easily reading queues and commands, and still has plenty of energy. Mocha isn't a gun dog, but her ball is her thing and will do just about anything for that ball. She swims, has practiced in a few sport venues like flyball and agility, and we plan to try our hand at dock diving sometime this year. She was always a fearless dog, except for being afraid of heights, she would do anything I asked and tried with all her might to do her best. She's a great little athlete at 46 1/2 lbs, not the kind of sit-around dog, as she does need a lot of stimulation (physically and mentally, of course being a working breed). I just love my Lab to bits and her line is exactly what I am looking for. Her breeders, Kevin and Laurie, are really wonderful people to talk to. I e-mail them twice a year to share photos and boast about how proud and lucky I am to have my chocolate girl! I am never shy to say how awesome and perfect my Wardensown Lab is.
Sincerely,
Jaline P. and Wardenwon Jaline's Mocha "Mocha"
Submit your testimonial