Pine Ridge Pudelpointers - Ontario Pudelpointer Breeders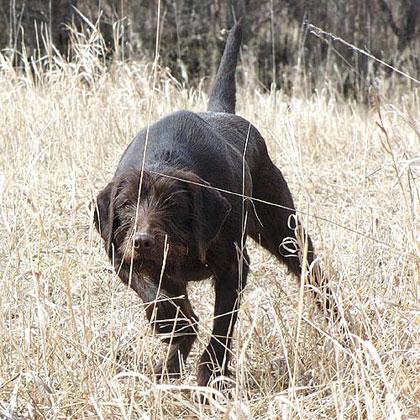 About Pine Ridge Pudelpointers
Handling Pudelpointers since 1970. By importing Pudelpointers from Europe we can offer you quality pups from proven stock. We use Pudelpointers on our hunting preserve for upland birds, waterfowl & tracking fur game. All dogs are HD free and NAVHDA tested.

Location : Pine Ridge Pudelpointers is located 2-1/2 hours from Niagra Falls, NY or 1-1/2 hours from Toronto.
Web Site : www.pineridgepudelpointers.com

Hunting Dog Breeds Raised
Pudelpointer
Additional Services
Hunting, Training, Stud Services, Boarding, Birds for sale
Breeder Contact Info
Testimonials (6)
Submitted by: Steve on Feb 17, 2020
I bought a female pudelpointer from Mike many years her dame was Tesa, a very good dog. I grew up helping my father training bird dogs and raising gamebirds bavk when the only birddogs were pointers and setters. I have seen alot of dogs but tjis dog was the best hunter, faimly dog i have ever had. She got sick at 7 and it took several visits to the veterinarian and they operated on her. She died before i could get there to bring her home. I loved that dog like a person and cried many days after her death. I would not hesitate to get another from Mike or tell someone else to.
Submitted by: Marilynne Heather on Jan 05, 2012
I purchased my first Pudelpointer from Pine Ridge Pudelpointers. She lived to be 15 years old and continued to hunt and run with amazing grace during her entire lifetime. She became our best friend and an amazing hunter! She was a very loving dog always wanting to please you. She was very smart & easy to train. A Pudelpointer looks at you with eyes of love and nuzzles you to remind you of how much they love you. Our future dogs will always be a Pudelpointer! I would highly recommend Pine Ridge Pudelpointers as they offer only quality dogs. They are very involved in the Pudelpointer breed and are expert breeders. "Tess" was a puppy of "Happy" who was a champion Pudelpointer from Pine Ridge Pudelpointers.
Submitted by: Julian Fattore on Aug 20, 2011
I have owned three Pudel Pointers in my time from Mike and Rose and will never stop. They are extremely smart, hard working and loyal dogs. I have known Mike and Rose for many years and have hunted there preserve many times and it is always a great experience. They are always striving to breed quality gun dogs and excellent companions. If you are looking for a great breed, Pudel Pointers are the way to go!
Submitted by: James Mitchell on Mar 28, 2011
I contacted Mike Pallotta in 2009 about purchasing a pudelpointer for my 1st hunting dog. Mike spent a lot of time with me explaining the breed and NAVHDA. After a lot of research and calling around I decided to purchase my dog from Mike. I had my pup in less than a year, and what a pup! He learned whoa at 4 months of age and loves the water; he goes swimming in our pool in winter just for fun. Smartest dog I've ever seen. I know what you're thinking I'm new to dog hunting and training, well my dog just completed his NA test through NAVHDA and received a perfect score of 112 points. The judges commented on what a good dog I had numerous times. He tracks with his nose to the ground at lightning speed, searches relentlessly, retrieves everything and looks like a statue on point. Best of all he makes me look like I know what I'm doing! If you're looking for an awesome dog from a straight shooter and someone who's been around awhile I highly recommend Mike Pallotta of Pine Ridge Pudelpointers.
Submitted by: SANDRA LAMERS on Feb 02, 2010
MY 9 YEAR OLD PUDELPOINTER HAS BEEN UNBELIEVABLE. BEST DOG EVER! EXTREMELY HEALTHY, FIT, MUSCULAR, AND LOVING. EVEN COMES TO WORK WITH ME EVERYDAY! THIS IS A REMARKABLE BREED!
Submitted by: Roger Huttmann on Jun 23, 2007
Mike and Rose Pallotta of Pineridge Pudelpointers have been super to deal with while making the purchase of my pup "Oskar", a black male PP. Their support of training and handling has been wonderful. Their friendliness and hospitality set them apart from other breeders of dogs...Roger
Submit your testimonial