HuntersDream Kennels - Ontario German Shorthaired Pointer Breeders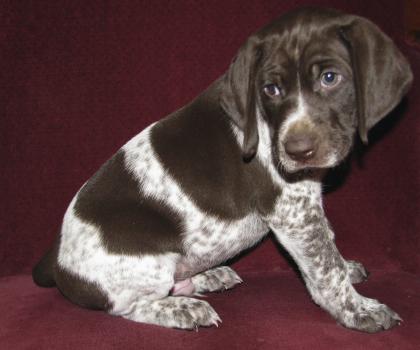 About HuntersDream Kennels
We are a small home based breeder that strives to breed great HPR dogs. The pups are socialized in the home and are given enrichment from the time they open their eyes. Parents are health checked and a 3 year guarantee for congenital or genetic defect is provided. The German Shorthaired Pointer is a versatile gun dog capable of excellent abilities in both field and water. They are well balanced with an elegant head and are lean in body. This breed is high energy, willing to please their master, and very smart. They are happy and friendly and get along well with children. They are loyal and protective, and prefer to be indoors with their family. Pups have dewclaws removed and tails docked. They will be dewormed X3 and will have first shots. We provide a puppy package that goes home with them that includes toys, training aids, and food. All our pups are vet checked and micro-chipped. Pups will have been introduced to wing as well as had bird exposure prior to going to their new home. We expose them to several different places as well as people. Our goal is to provide you with a pup that has drive, desire and natural ability. Your goal will be to expose your puppy to the things that will make it a great hunting companion. We screen all prospective homes to ensure that the family's are suitable for this high energy and intelligent dog.
Hunting Dog Breeds Raised
German Shorthaired Pointer
Breeder Contact Info
Testimonials (2)
Submitted by: J Ostertag, S Canning on Dec 08, 2014
Our male Gus now 8 months was purchased from Hunters Dream. He is all around a wonderful guy. Great drive to get the job done yet a lovable companion off season. We couldn't have asked for a better breeder to walk us through. 5 stars
Submitted by: Richard Bates on Nov 26, 2014
My dog Charly was from the first litter of GSP's from this breeder. She has been a wonderful dog, in terms of temperament, instincts, and possessing all the positive characteristics that this breed should have.. They are very caring breeders, who care about their dogs, and potential owners. A wonderful experience, all around.
Submit your testimonial