Crossfire - Ontario Irish Red and White Setter Breeders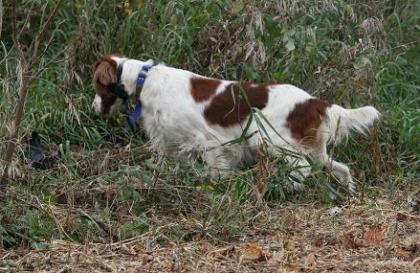 About Crossfire
Setters to share life with ... hunting, showing or snuggling. Home raised puppies occasionally available. Crossfire parent dogs are certified for hips, elbows, heart, eyes, thyroid, and are genetically clear by DNA for vWD and CLAD. Our goal is for sound, trainable dogs who have a strong hunting desire, and who are also pleasing to the eye.
Hunting Dog Breeds Raised
Irish Red and White Setter
Breeder Contact Info
Testimonials (3)
Submitted by: Bill Martin on May 06, 2011
I purchased a R&W from Alice this past October and he (Ricky) is now 10 months old and I am so pleased I found Alice and Ricky. While we have never met in person, we connected from the start and I respect Alice so very much. When we talked by phone and I told her I was interested in obedience training and high level competition and she set me up with the perfect dog.
Ricky has a great temperment and is so willing to please. I've owned and shown Irish Setters in obedience since 1974, and I feel that Ricky will out perform my red boys.
Thanks Alice, you are the best.
Bill
Submitted by: Gary J. Scypta on Jun 10, 2010
I have known Alice for over 10 years and they don't come much better than Mrs. Guthrie. As a disclaimer I need to state that two of my dogs were bred to Crossfie bitches.
I have always been impressed with Alice's ethics and the fact that she was only going to breed when she knew that she had interested buyers and felt that she could improve her lines. Health tests had to be done. Alice always wants to see dogs with working ability in their backgrounds and both dogs had to have very sound temperaments. She says that there are no perfect dogs but the sire and dam have to compliment each other.
For the last breeding that we did our then 22 year old daughter asked if she could have one of the pups. I said OK as long as she would agree to let me train and hunt her dog. She got pick of the litter and, although she originally thought she wanted a little girl, she ended up taking what Alice said was a very sweet male. Alice could not have been more correct. Our daughter and her dog have been inseparable for the last year. His disposition is excellent, his movement is very sound; he is very biddable and has a better nose than his father. What really has impressed me the most is that, even though I have not been able to spend a lot of time training him (our daughter lives in another state), he is doing extremely well in the field and was able to get his AKC Junior Hunter title shortly after he turned one year of age. I honestly think that he is farther along than either my first IRWS or his sire and both of them spent time with professional trainers. It is said that the IRWS is a natural hunter. I believe that to be true but there is a difference between a dog that will hunt and a hunting dog. As someone who spends a fair amount of time in the woods every fall behind my dog and others I think I know a good bird dog. If you are looking for an IRWS that is being bred to the Standard, has a sound temperament, is a joy to live with, one that will make a great every day companion and will take to the field naturally I highly recommend that you include Crossfire Irish Red & White Setters in your search.
Submitted by: Susan Hoppe on Oct 22, 2009
Alice and Wayne are great! I bought my first IRWS (Crossfire Tumblin Tumbleweed, JH, CD, JH, CGC) from them in 2000 and have been incredibly happy with him. He has the sweetest temperament. He is a couch potato in the house and raring to go in the bird field. I highly recommend Crossfire IRWSs to anyone.
Submit your testimonial