Aislingcudo Irish Red and White Setters - Ontario Irish Red and White Setter Breeders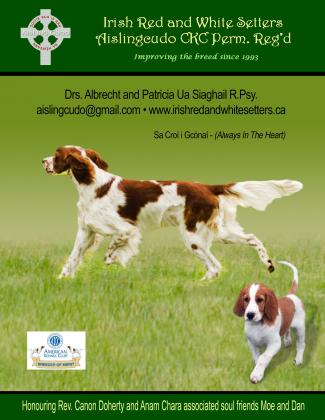 About Aislingcudo Irish Red and White Setters
Improving the breed since 1993.

Our kennel name, Aislingcudo, literally means in the vision of Cuddy and Doherty. From the Gaelic – the translation of aisling is vision or dream. A vision is of course something one aspires to – it is a goal – it is something that one always seeks to attain – the journey is ongoing. Maureen Cuddy and Canon Patrick Doherty worked tirelessly for decades in the 1070's – both are now over the 'Rainbow Bridge' but their vision live on in all those who continue to promote the breed worldwide.
Our puppies have gone on to make wonderful hunting and tracking dogs. They have been very successful in the conformation, obiedence and agility rings. They have also made loving pets and dedicated and reliable service dogs. Our success is due a large part to the loving dedication of our many owners.

Hunting Dog Breeds Raised
Irish Red and White Setter
Breeder Contact Info
Testimonials (0)