The DNA Vizslas - Oklahoma Vizsla Breeders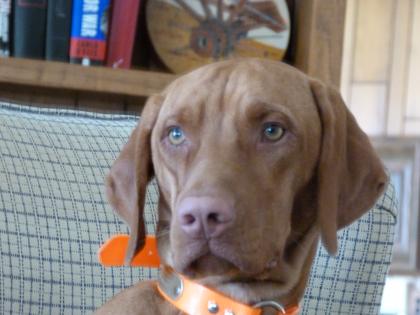 About The DNA Vizslas
Dogs have been a part of our family's lives for as long as I can remember. We are a small family kennel that has only one litter of pups per year. Our family is dedicated to raising each and every puppy with the utmost care and attention to good development. Our Goal is to breed excellent quality versatile Vizslas that have the ability to excel in the field and make great companions and family pets.
Hunting Dog Breeds Raised
Vizsla
Breeder Contact Info
Testimonials (3)
Submitted by: Joshua Courtney on Oct 29, 2018
In short excellent breeders and excellent animals. But as a breeder they are so much more, it was a family experience. From the time we made our deposit, until we drove to Oklahoma to meet them and our new puppy, the communication was never lacking. Perfectly timed photos to keep us all eager for Beaux's progress. It has now been just over two years and I could not ask for more out of Beaux. His temperament is as great a companion and guard you can ask for. He loves his two legged brother and sister, and they love him. He does great in the field with a good prey drive that doesn't carry over to other domestic animals in our neighborhood. When the time comes for another vizsla, I will be coming to DNA Vizslas first.
Submitted by: Robby Severance on Feb 27, 2016
What a fantastic breeder! The love they have for their dogs shows in their puppies. They are extremely well taken care of. Wether you want a hunting dog or companion dog these pups are top notch. Our boy Goose has a phenomenal hunting drive and exceptional stamina. At over 2 years old, he personifies the breed's characteristic of velcro dog, he loves being next to us when he is not chasing birds outside. Once again this is a great breeder and would highly recommend to anyone looking for a great pup from a great family
Submitted by: Daniel Guajardo on Apr 02, 2015
The breeder is fantastic. His knowledge about and love for Vizslas amazed me. Our Vizsla (Annie) we have from him is excellent dog. Annie comes from an exceptional bloodline and her characteristics are prime within the breed and she is an outstanding bird dog. My experience with the breeder has been wonderful and he is a class act. They continue to make themselves available to us even two years after receiving Annie. I would recommend this breeder to anyone looking for a great companion dog or an excellent bird dog.
Submit your testimonial