Oklahoma Labradors - Oklahoma Labrador Retriever Breeders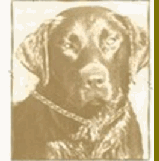 About Oklahoma Labradors
We have been breeding top quality Labrador Retrievers in our home and family kennels since 1990 and we take great pride in the quality of our Labs. We are not a puppy mill. We are professional breeders that care about the health and happiness of our companions. Our veterinarian is also our neighbor and we work in conjunction with him to provide the best home and breeding environment for our four legged family members. Our breeding Labradors have champion pedigrees in both hunting and show.

We breed for beauty, health, and disposition. Most of our Labrador's are English style with big wide heads and chests. All of our breeding Labradors are obedience trained family companions that are calm natured, highly intelligent, loving and very friendly. We follow a specific breeding program and only breed our females once every 12 - 18 months.

We raise mainly chocolate and yellow pups but do have black pups from time to time. Our yellow pups range in color from solid white to Fox red depending on the breeding pair. We offer a two year hip/eye guarantee on every pup we sell and all of our pups are well socialized from the moment of birth. ALL puppies are veterinary inspected at 3 days and again at 6 weeks, have dew claws removed, are de-wormed and have their 1st shots.

Hunting Dog Breeds Raised
Labrador Retriever
Breeder Contact Info
Testimonials (2)
Submitted by: Kurt on Oct 22, 2016
I purchased a male yellow (red) lab 7 years ago. Everything Sandra mentions here on the site is true. Our little Boomer fit into one hand when I bought him at 8 weeks of age. He weighed in at a healthy 91 pounds yesterday at the vet. We feel so blessed. I hope I can post a picture here for all to see. Just the most handsome boy with the kindest disposition. Great breeding with a wide head and chest on a muscular frame. It was such an easy transition training him to do his business outside. Boomer is so obedient and eager to learn new tricks I have enjoyed teaching him new tricks. His favorite is shutting the door by himself when he comes inside, yes he can open the door to come back in the house as well. ha! So calm natured, highly intelligent, loving, and very friendly.
Sandra is an excellent breeder that truly wants a good home for these wonderful companions.
Submitted by: Virginia Kirschner on Nov 26, 2009
My experience dealing with Sandra Estep, Oklahomalabradors has been a joy. Every comment she made about my puppy was absolutely true. Her facility is spacious and clean. My puppy was presented to me healthy and happy and showing good signs of training and loving care. Sandra gets a 5+ from me. Great job, Sandra.
Submit your testimonial