Mick's Brittany's - Oklahoma American Brittany Breeders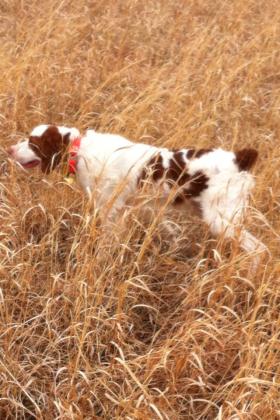 About Mick's Brittany's
Mick's Brittany's: We only have 1 - 2 litters a year. We strive to produce a very versatile Brittany, whether you are an avid hunter that needs a hunting companion or you desire to compete, either in the show ring, field trials, or hunt tests. Our pups have the potential to be whatever you desire them to be with lots of natural instinct. We do not offer shipping at this time, however we are open to discussing all possibilities. If you purchase a pup from us we offer the following guarantee. Guarantee: We guarantee a pup that has been de-wormed and has his/her shot record up-to-date. The pup should be free of congenital abnormalities and infectious diseases at time of delivery. We further guarantee the pup to be free of any genetic disease that causes death or serious impairment of vital functions, the pup must be seen by your vet within 48 hours of transfer or this guarantee is void! In the unlikely event that this should happen, contact us. Once our vet examines the X-rays and agrees, we will send a replacement pup from a comparable breeding at our discretion. This guarantee is void if the pup has suffered physical trauma or has been sold. Copies of diagnoses, lab tests, and radiographs must be sent to us by the veterinarian that performed the procedures. All shipping expenses including by air or delivery to the kennel are the new owner's responsibility. You may contact us about future litters at anytime. Thanks. Mick. All deposits are nonrefundable!
Hunting Dog Breeds Raised
American Brittany
Additional Services
Stud Services
Breeder Contact Info
Our Pedigrees
Testimonials (2)
Submitted by: Ethan Edwards on Feb 17, 2014
We had an excellent experience purchasing a Brittany pup from Mick's Bittany's! Mick is an avid dog lover and is very enthusiastic about his business. He was extremely helpful and accommodating throughout the entire process, from answering questions, to offering advice, and event sending weekly photo updates for our family to enjoy. Our entire family loved watching our pup grow up, anticipating the adoption date! I would highly recommend Mick's Brittany's to anyone looking to purchase a quality bird dog! Thanks again, Mick!
Submitted by: Russell White on Feb 06, 2014
I would like to say how well our experience went when purchasing our 7 week old Brittany through Mick's Brittany's. Upon contacting Mick he was very responsive in providing us pictures as well as texting me with information I requested. He was very accommodating to make we were happy with the puppy we picked. If the occasion arises that we want another Brittany puppy, Mick will be the first person we call.
Note: Shot records and AKC papers were also provided.
Submit your testimonial