Fowl Mouth Labradors - Oklahoma Labrador Retriever Breeders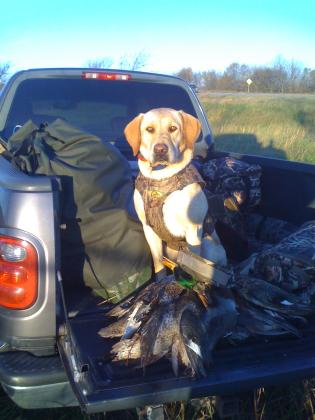 About Fowl Mouth Labradors
We are a small breeder that focuses on the quality and temperment of our puppies. We only have 3 litters a year at most. All of our adult dogs are our own personal hunting companions. No matter if you are looking for a great hunting companion or a family pet you wont be dissapointed in the quality and temperment of our labs. We are very proud of the quality of our dogs.  Thank you for considering our puppies and we would love to place a happy and healthy puppy in your blind and/or home. Thanks again.
Hunting Dog Breeds Raised
Labrador Retriever
Additional Services
Training, Stud Services
Breeder Contact Info
Testimonials (3)
Submitted by: Wayne Kendrix on May 05, 2010
I am superbly pleased with the male pup I got from Fowl Mouth Kennels. Extremely well socialized, healthy and conditioned, his training is progressing rapidly. Body size and conformation is everything you can ask for in a Lab. His desire to retrieve at such a young age is astonishing. Ive already been offered twice what I paid for the pup and turned it down without a thought...I highly recommend this kennel and give it high marks.
Submitted by: Matt Eklund on Feb 21, 2010
We purhased a female from Fowl Mouth Labradors in August 2009. She is very intelligent and learns quickly. We keep her indoors and she fits in well with our family.
Submitted by: Josh Dodds on Jan 01, 2010
Two months ago I purchased 2 female Labs from Fowl Mouth kennels. The pups tempermant and personality are second to none and they have an undisputed drive to retrieve and please in general. I would recommend Fowl Mouth kennels to anyone looking for an above quality pup.
Submit your testimonial