Chesbro Hunting Labradors - Oklahoma Labrador Retriever Breeders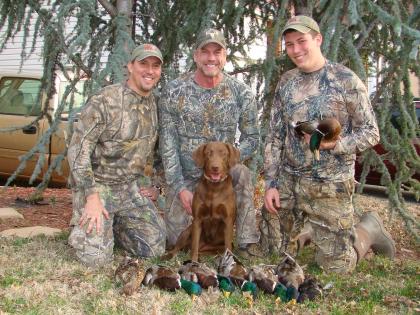 About Chesbro Hunting Labradors
Chesbro Hunting Labradors

First and foremost I am a hunter. I began hunting with my father as soon as I could walk. I was the retriever back then. The first dog I remember us having was an English Pointer when I was two years old. My Father and I enjoyed hunting together until the day he died, which happened to be on the way home from a dove hunt in 2006. We had one of our best days ever and my first Pointing Labrador was with us and retrieved our birds for us that day.

In my early years growing up we mostly did upland hunting with pointing breeds. I got into the Hunt Test game in 1992 raising Brittany's and handled my Stud dog to his Master Hunter title. We did a little duck hunting back then, but not that much. As the quail population began to decline, I started to turn to waterfowl hunting to keep my passion for hunting alive. I still wanted to do some upland hunting when possible so I turned to the Pointing Labrador Retriever to be my hunting companion. I got my first male Pointing Labrador in 2004 from Blackjack Kennels in Kansas. I fell in love with him, and soon got a female from a kennel in Texas. The dogs had Grand Master Pointing Retriever parents, both their sires and dams.

My passion for the breed continued to grow and I got into the hunt test game with them in 2013. My current female has her Advanced Pointing Retriever title. I will never be a large kennel that just churns out pups. I have kept a chocolate female out of APR SHR Goose's Little Keeper and GRHRCH UH CPR Mississippi Mayhem MH. She is now runing at the the seasoned level in HRC. Her name is SHR Keeper's Goosebuster. Watch for pups from her in the future after she completes more hunt test titles.
Chesbro Hunting Retrievers has some very satisfied customers and I would love to add you to that list. We have a great 26 month health guarantee.


Current Dam
APR SHR Goose's Little Keeper JH has 42 Retriever Hall of Fame dogs in her pedigree and 4 American Pointing Labrador Hall a Fame dogs in her pedigree. She also has multiple NFC/NAFC, GMPR, MH, and SH in her pedigree as well.

Keeper comes from a great Chocolate Pointing Labrador bloodline. Her mother Goose (pictured above) is out of the great female GMPR Sugar Bear of Started Pointing Labs JH who is the mother to two of the top Chocolate Pointing Labrador stud dogs in the country; 4XGMPR, HRCH Lakota's Hurricane Cruz MH (littermate to Goose pictured above) and 4XGMPR Iowa Pointing Labs Grizzly SH. Sugar Bear is also the grandmother of 4XGMPR Tornado's Sir Bohdi SH. At one point, each of these stud dogs held the distinction of being the youngest 4XGMPR in history.

Please watch for our upcoming litters. These pups should be able to compete anywhere or just be your best hunting buddy.

Hunting Dog Breeds Raised
Labrador Retriever
Breeder Contact Info
Puppies for sale
Testimonials (1)
Submitted by: Chris Lane on Nov 16, 2013
I got one of his yellow male pups and he is an amazing dog. Would definitely get another pup from Tommy.
Submit your testimonial