Birdflush Kennels - Oklahoma English Springer Spaniel Breeders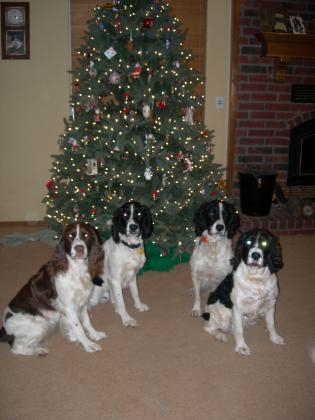 About Birdflush Kennels
We are a small kennel, dedicated to breeding English Springer Spaniels for the purpose of hunting and companionship and basic obedience training. Our dogs are family, and our puppies are well-loved and socialized in preparation for becoming great indoor/outdoor companions.
Hunting Dog Breeds Raised
English Springer Spaniel
Additional Services
Training, Stud Services
Breeder Contact Info
Testimonials (3)
Submitted by: Pat & Robert Harkins on Mar 13, 2020
We purchased 2 sisters from bird flush 2019. We have had 4 others from a breeder in Pennsylvania but these 2 are as smart as can be. They are remarkable. Beautiful and so easy to train! We hunt and are training them but it has comes naturally. We love our girls. What personalities, couldn't have asked for better pups. Would highly recommend Alan and Donna Young for both their dogs and their friendship. Great people.
Submitted by: Brian Bilotta on Nov 17, 2015
Donna and Alan are great people to work with. Tilly, our ESS from Birdflush is a fantastic dog, both in the field and in the house. She's a competitive field trial dog and a great hunting companion. Tilly is always eager to please. She is very biddable, extremely intelligent, has a very good nose, and tons of energy. In the house she's just a sweet, lovable dog.
Submitted by: Pamella Ryon on Jul 17, 2012
We purchased our ESS from Birdflush Kennels in 2009. She was 3 mos. old when we got her and already crate trained and well loved. We have had other dog breeds in our lives including 4 other ESS dogs that were wonderful, but Vesta is the most wonderful of all. She was the easiest to train, understands verbal instruction as well as hand gestures. We don't hunt with her but she is a great household companion - very devoted to every member of the family. I am continually advising people to get an ESS and to get him/her from Birdflush.
Submit your testimonial